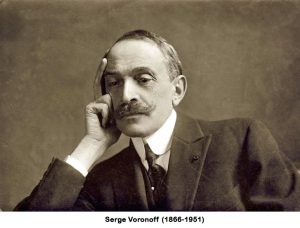 Join me at the New York Academy of Medicine for the Tenth Annual History of Medicine and Public Health Night on Wednesday evening, January 30th, when I present my paper entitled Organotherapy, Gilded Manhattan, and Wound Healing Research in the Early 20th Century. This presentation will explore the unrecognized and forgotten contribution of Serge Voronoff (1866-1951) to wound healing research – a story that evolves against the backdrop of medical science and mansions of early 20th Century Manhattan. 
Seeing the suffering of injured soldiers during World War 1, Voronoff realized the importance of hastening wound healing and its potential benefit to medical science. He collaborated with a nurse, Evelyn Bostwick, a Manhattan heiress who he eventually married, on wound healing research. Evelyn's father was a founder of Standard Oil with JD Rockefeller, and grew up in a palatial mansion on Fifth Avenue. With her assistance he experimented on artificially induced wounds in animals using slices of testicles. 
After WW1, Dr. Voronoff attained notoriety for his theories of human rejuvenation, accomplished through transplantation of testicles from monkeys into aging men. He maintained a thriving surgical practice until his work became discredited in the late 1920's, leading him into forgotten obscurity. Few are aware, however, of his research on wound healing, performed in France during World War 1. 
Although his experiments sound farfetched today, at the time he was at the forefront of medical science. This was years before the establishment of the field of endocrinology, and over a decade before isolation of testosterone. Many years later, anabolic steroids were adapted for burns and pressure injuries, but by that time Voronoff's work was forgotten. 
The Tenth Annual History of Medicine and Public Health Night will be held Wednesday, January 30, 2019.   There will be several other presenters with different topics on the history of medicine.  Attendance is free but registration is required.
* * * * * * * * * * * * * * * 
For more information and registration for History Night click here.  
For a Facebook page devoted to Dr. Voronoff (in Italian) click here. 
Here is a link to Dr. Voronoff's biographer (in Italian).
For a blog devoted to Dr. Voronoff by Aaron Voronoff Trotter click here.
* * * * * * * * * * * * * * * 
Related posts: 
Recognizing the Incurable in Ancient Egypt 
Body Casts in WWII: A Historical Perspective on Medical Device Related Pressure Ulcers 
Historical Roots of the "Avoidable-Unavoidable" Pressure Ulcer Controversy 
Wound Odor: Ancient Greece and The Story of Philoctetes 
Jean Martin Charcot's Lecture on Pressure Ulcers: An Important Historical Document 
The Enigma of the Historiated "V" in Vesalius's Fabrica 
The Legacy of Letchworth Village 
Wounds of a Boxer: Medical Secrets from Ancient Rome 
Wound Healing Products: From Ancient to Modern Mythology 
Jewish History in Vesalius's Fabrica