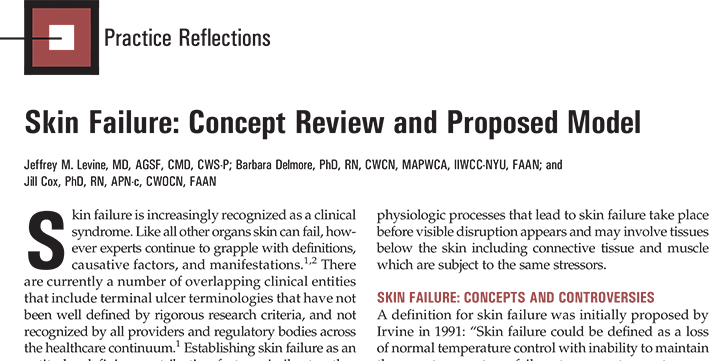 I was honored to present my recent paper on skin failure at the Spring meeting of the Symposium on Advanced Wound Care (SAWC) in Phoenix.  The SAWC meeting is an interdisciplinary forum designed for all clinicians who wish to learn state-of-the-art concepts regarding the growing field of wound care.  Attendance was great considering we were still at the tail end of Pandemic restrictions.
My presentation was intended to deliver basic concepts of skin failure pathophysiology outlined in my paper published in the March 2022 issue of Advances in Skin & Wound Care.   The topic of skin failure has been addressed by many authorities over the years, and is a concept in evolution.  There is a pressing need to define skin failure as a clinical syndrome and understand its pathophysiology because of its implications for clinical care and health care policy.
Skin is the largest organ of the body, and performs multiple functions in terms of the body's protection and homeostasis.  As there is no single function of skin, there is no single cause of skin failure. Clarification of the pathophysiology of skin failure has important implications for clinical care, quality measurement, and health care policy.  In reviewing contributors to skin failure, several common pathophysiologic mechanisms emerge which can be considered a pathway toward this clinical phenomenon.  My paper proposes a model that relies upon physiologic principles common to other organ systems that apply to patients across the healthcare continuum.  
Click this link to download the article.  
* * * * * * * * * * * * * * *
Related posts:
Review of the Skin Failure Concept
Is the Pressure Injury Staging System Obsolete?

New Review on Aging Skin, with Considerations for Clinicians

Determining the Avoidability of Pressure Ulcers

Pressure Injuries and the Human Warranty
Wound Care in the Geriatrics Review Syllabus
Skin Failure: An Emerging Concept
Historical Roots of the "Avoidable-Unavoidable" Pressure Ulcer Controversy