It was my great pleasure to present wound care research at the annual meeting of the American Geriatrics Society (AGS) that took place in Orlando, Florida.  Our research was entitled Pressure Injuries and Wound Care: A Lost Geriatric Syndrome.  First author was Emily Samuels MD, a geriatrician-in-training who will soon become attending physician with the Department of Geriatrics and Palliative Care at the Mount Sinai Medical Center.  Co-authors included Stephanie Le MD, Clinical Assistant Professor and Assistant Medical Director at New Jewish Home in Manhattan, and Ruth Spinner MD, Professor of Geriatrics and Medical Director at the same facility.
We searched 3 decades of articles published in the Journal of the American Geriatrics Society (JAGS), and research abstracts submitted to annual AGS meetings for articles and projects related to wound care.  We also accessed AGS annual meeting agendas over the past 17 years to review wound-related oral presentations.  Considering the importance of wound care to many geriatric patients, we found a surprising lack of research on this topic by the geriatric community.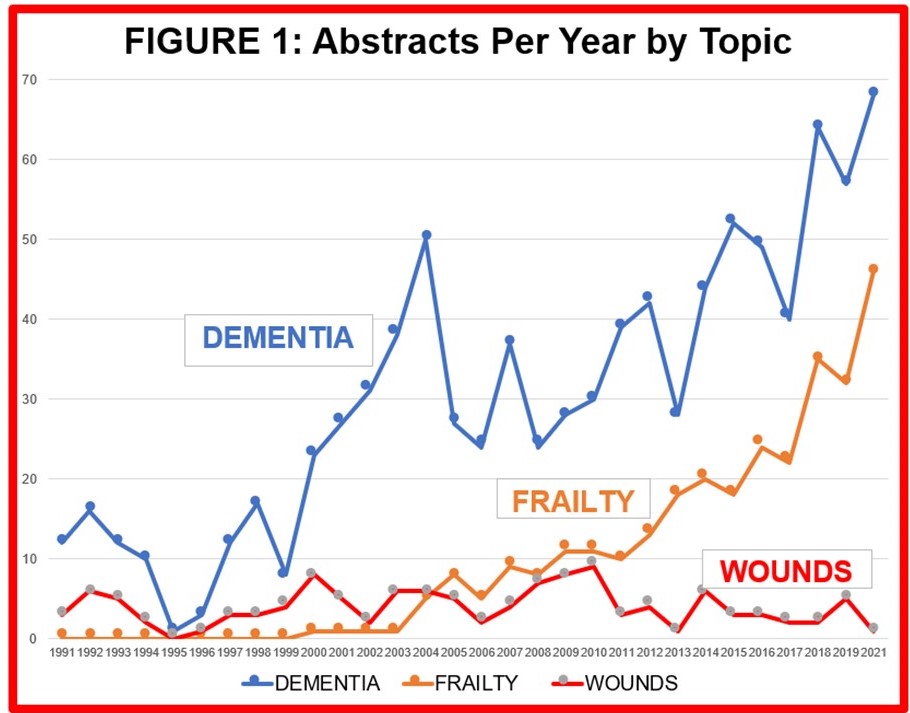 The diagram above shows part of our findings.  The graph displays 30 years of AGS meeting abstract presentations on the topics of dementia, frailty, and wounds.  You can clearly compare the trend in academic interest in dementia and frailty with wounds and wound care.
Despite the well-documented association of chronic wounds with aging, we conclude that the field of geriatrics has provided suboptimal attention to this important topic. Looking toward the future, the agenda for geriatrics must include education, research, and collaboration with other disciplines to optimize outcomes related to pressure injuries and other chronic wounds including diabetic, vascular, post-surgical, and wounds related to malignancy.
* * * * * * * * * * * * * *
RELATED POSTS
Presenting on Skin Failure at SAWC
Wound Care in the Geriatrics Review Syllabus
 
New Review on Aging Skin, with Considerations for Clinicians
 
Is the Pressure Injury Staging System Obsolete?