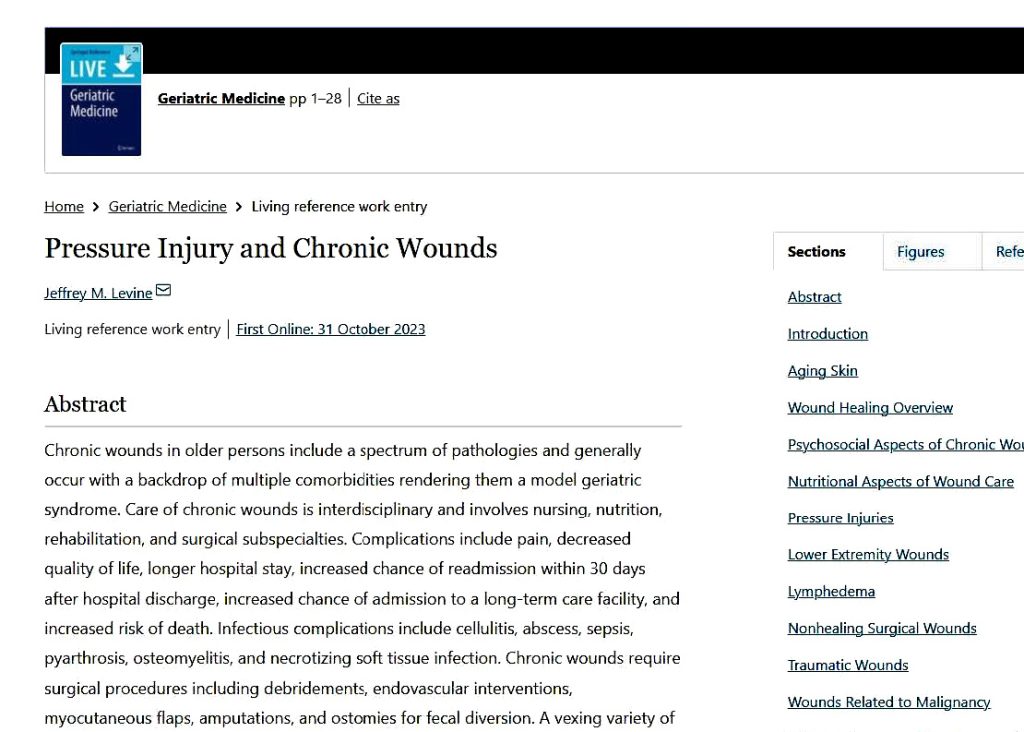 I am thrilled that my chapter entitled Pressure Injury and Chronic Wounds was just published in a major new reference work. The textbook is entitled Geriatric Medicine: A Person Centered Evidence Based Approach and is available on Springerlink. My chapter is illustrated by photos taken over years in practice, and illustrations that demonstrate pressure injury staging and aging skin.
This chapter is part of a large multidisciplinary reference work with over 70 peer-reviewed chapters designed to present a comprehensive and state-of-the-art update that incorporates existing literature with clinical experience.  Geriatric medicine is defined by a focus on function and quality of life and the approach to care must be grounded in the principles of person centered care. This book will serve as an unparalleled resource for meeting these challenges.
Updated and revised from the previous edition, it is published by Springer International Publishing, the biggest publisher of medical textbooks worldwide. Designed to be published in print, e-book and as a perpetual online living reference work, this text creates a cutting-edge moment for cumulating, updating and extending studies of geriatric medicine beyond the present and into the future.
Despite the high prevalence of chronic wounds, wound care is undertaught in medical training, and research and education on wound care has lagged behind other geriatric syndromes such as falls, dementia, and frailty.  The differential diagnosis of chronic wounds covers a wide range of entities, often posing a diagnostic challenge. The geriatrician needs to be familiar with concepts of prevention, diagnosis, treatment, and how to best collaborate with colleagues in allied specialties for co-management of chronic wounds to promote dignity, autonomy, quality of life, and favorable outcomes. I feel honored and pleased to be able to make this contribution that will provide medical practitioners with the basics of care for pressure injuries and chronic wounds.
For more information on this book click here.  
* * * * * * * * * * * * * *

Related posts: 
A Review of the Skin Failure Concept
Wound Care in the Geriatrics Review Syllabus
 
New Review on Aging Skin, with Considerations for Clinicians
 
Is the Pressure Injury Staging System Obsolete?