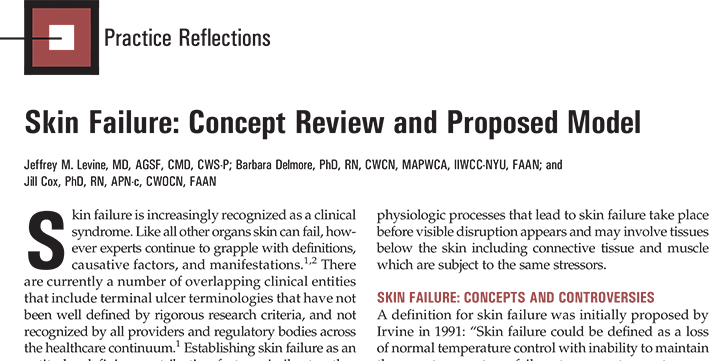 My new paper entitled Skin Failure: Concept Review and Proposed Model is now available electronically ahead of print (EPUB) on the Advances in Skin and Wound Care website, and will appear in print March of 2022.  The manuscript reviews the skin failure concept, defines related controversies, and proposes a model for its pathogenesis.  Like all other organs skin can fail, however experts continue to grapple with definitions, causative factors, and manifestations. My goal for this project was to assemble various proposed nomenclatures into a cohesive, easily understandable schema that applies to vulnerable persons across the healthcare continuum – from the ICU to post-acute long-term care to home care.
The manuscript defines contributing factors based upon pathophysiologic principles that apply to other organ systems that will enable providers to recognize and address skin failure in practice, and assist regulators by incorporating these factors into quality measurement criteria. Unifying the concept across the healthcare continuum will bring a common understanding of skin failure and related entities which include unavoidable pressure injuries and terminal ulceration which I believe are part of the skin failure spectrum.  Keep in mind that recognition of skin failure does not absolve caregivers of providing vigilant preventive measures for maintaining skin integrity.
The manuscript reviews barrier functions of skin and defines specific pathophysiologic factors that lead to its disruption including hypoperfusion, hypoxia, increased vascular permeability, and edema – all of which act synergistically.  The article further defines acute and chronic conditions leading to these pathophysiologic aberrations including Multiple Organ Dysfunction Syndrome (MODS), protein-calorie malnutrition, and immunocompromised states.  Also addressed are critical contributing factors such as age-related skin changes, frailty, sarcopenia, cytoskeletal and external forces, pharmacologic contributors, and the dying process.
There is a pressing need to define skin failure as a clinical syndrome because of its implications for both clinical care and health care policy. Learn more by downloading the paper at this link.
* * * * * * * * * * * * * * *
Related posts:
Is the Pressure Injury Staging System Obsolete?

New Review on Aging Skin, with Considerations for Clinicians

Determining the Avoidability of Pressure Ulcers

Pressure Injuries and the Human Warranty
Wound Care in the Geriatrics Review Syllabus
Skin Failure: An Emerging Concept
Pressure Ulcers are an Under-Appreciated Public Health Issue
Body Casts in WWII: A Historical Perspective on Medical Device Related Pressure Ulcers
Historical Roots of the "Avoidable-Unavoidable" Pressure Ulcer Controversy