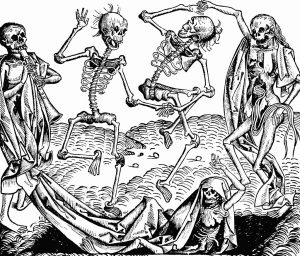 The Black Death was a global epidemic of bubonic plague that ravaged the world of the Middle Ages, killing one third of all the people in Europe. In the 14th Century the esteemed medical faculty of Paris were commissioned to deliver their opinion to furnish recommendations to prevent its transmission.  This was before the knowledge of micro-organisms, and medical advice revolves around modifying the air and the diet, as well as personal activity, colonic cleansing and chastity. Here are some highlights, from the reference entitled Hecker's Epidemics of the Middle Ages:
[K]indle a large fire of vine-wood, green laurel, or other green wood; wormwood and chamomile should also be burnt in great quantity in the marketplaces, in other densely inhabited localities, and in the houses.

During this time the diet should be simple, and people should be cautious in avoiding exposure in the cool of the evening, at night, and in the morning.

Poultry and water-fowl, young pork, old beef, and fat meat in general, should not be eaten.

Sleep in the day-time is detrimental; it should be taken at night until sunrise, or somewhat longer. 

Clear light wine, mixed with a fifth or sixth part of water, should be used as a beverage.

The body should be kept warmer than usual, and thus protected. from moisture and cold.

Good clear wine should be selected and drunk often, but in small quantities, by day.

Olive oil as an article of food, is fatal. Equally injurious are fasting and excessive abstemiousness, anxiety of mind, anger, and immoderate drinking.

In order to keep the body properly open, an enema, or some other simple means, should be employed, when necessary.

Men must preserve chastity as they value their lives.
These recommendations seem quaint, however they represent the state of the art of the time.  Today, just as society did in the 14th Century, we look toward our authorities for guidance, hoping their instructions are rational and based upon science.  There are still many unanswered questions regarding the epidemiology of COVID-19, but the mainstay for prevention of transmission includes masking, quarantine COVID+ persons, and contact tracing.
* * * * * * * * * * * * * * 
Complete reference for this book is: The Epidemics of the Middle Ages: From the German of J. F. C. Hecker. Tr. By B. G. Babington; 1859.
Related posts:
Recognizing the Incurable in Ancient Egypt 
Body Casts in WWII: A Historical Perspective on Medical Device Related Pressure Ulcers 
Historical Roots of the "Avoidable-Unavoidable" Pressure Ulcer Controversy 
Wound Odor: Ancient Greece and The Story of Philoctetes 
Jean Martin Charcot's Lecture on Pressure Ulcers: An Important Historical Document 
The Enigma of the Historiated "V" in Vesalius's Fabrica 
The Legacy of Letchworth Village 
Wounds of a Boxer: Medical Secrets from Ancient Rome 
Wound Healing Products: From Ancient to Modern Mythology