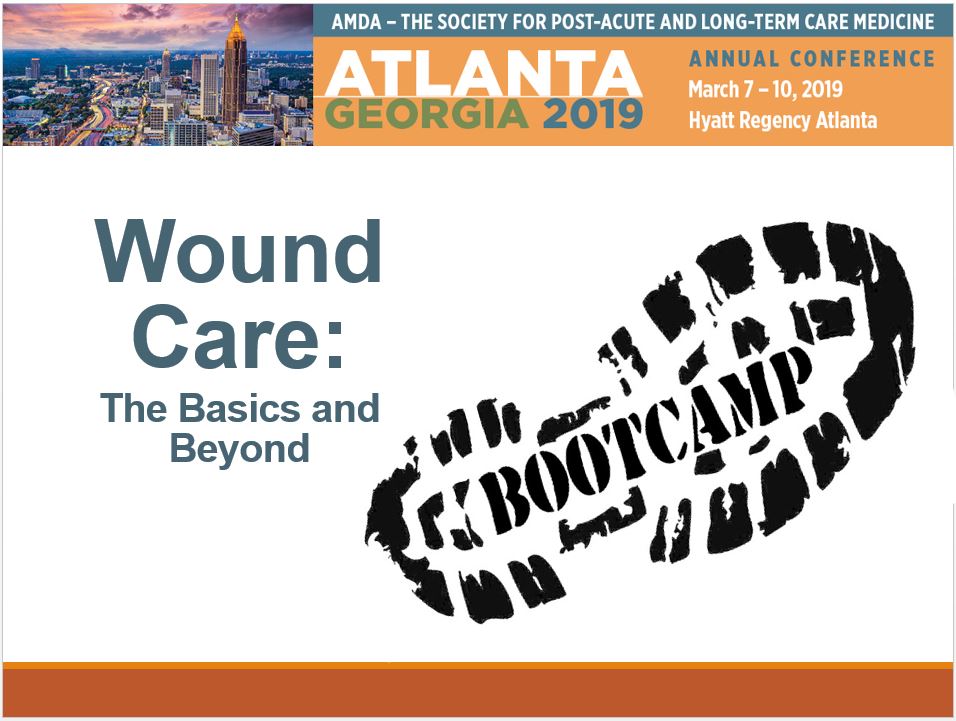 Many times I've been asked to provide a lecture on wound care with an allotted time of 45 minutes to one hour.  The reality is that wound care is so complex that one hour will provide only a superficial overview which may not serve many front-line clinicians.  This year I had the opportunity to organize a half-day program at the Annual Meeting of AMDA/PALTC in Atlanta, recruiting some of the best wound educators in the country.  The title of our program was Wound Care Boot Camp: The Basics and Beyond.
The transformation of the nursing home into a post-acute environment has increased acuity levels, causing a surge in demand for complex services including wound care.  Because wound care is rarely taught in medical training, and the field had undergone many changes in recent years, there is a huge demand for educational programs.  My goal in organizing this program was to meet this need. 
The program included the following speakers and topics:
• Gary Brandeis MD, CMD: Assembling the wound program: Administrative Challenges
• Art Stone DPM: Prevention Overview
• Paul Takahashi MD: Treatment Products Overview
• Mary Litchford PhD, RDN: LDN Nutritional Aspects of Wound Care
• Vycki Nalls GNP-BC, CWS, ACHPN: Team Building: What to Expect from a Wound Nurse
• Shark Bird MD, CWSP: The Ins and Outs of Outsourced Wound
• Karl Steinberg MD, CMD, HMDC: Medical-Legal Aspects of Wound Care
• Jeff Levine MD, AGSF: Skin Failure, Terminal Ulceration, & Palliative Care
• Scott Bolhack MD, MBA, CMD, CWSP: Wound Infections
I've been an active member of AMDA for over three decades, and its been a professionally rewarding experience to participate and see it grow. AMDA – The Society for Post-Acute and Long-Term Care Medicine represents over 50,000 medical directors, doctors, nurse practitioners, physician assistants, and other practitioners working in various post-acute and long-term care (PALTC) settings. Their membership draws from long-term care, assisted living, home care, hospice, and other locations in the healthcare continuum. Their mission is to promote and enhance the quality of care across all post-acute and long-term care settings.
Thank you AMDA/PALTC for this opportunity!
* * * * * * * * * * * * * * * *
Related links:
Is the Pressure Injury Staging System Obsolete?
New review article on terminal ulceration published in Advances in Skin and Wound Care
Pressure Ulcers are an Under-Appreciated Public Health Issue