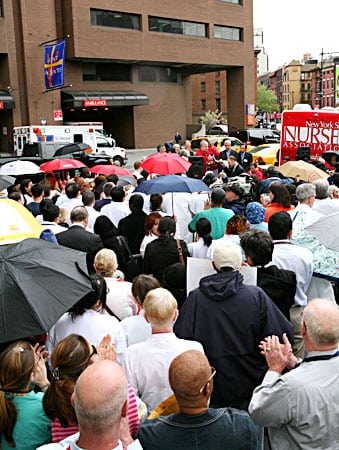 Yesterday, in a clumsily administered coup de grace to St. Vincent's Hospital, 3,500 pink slips were handed out to all employees.  It sounds unbelievable but that is what I wrote – all employees.  This applies to maintenance people, lab techs, nurses, nursing assistants, chaplains, secretaries, research assistants, doctors, administrators, and anyone else who works for the hospital.
At a news conference today on 7th Avenue, doctors and nurses joined together to express their sorrow, outrage, and concern for the healthcare needs of lower Manhattan.  Dr. David Kaufman represented the physicians, and told of the 60,000 Emergency Room visits over the past year.  He pointed out that when St. Vincent's closes, there will be no emergency medical facility on the West Side of Manhattan from the Battery to 59th Street.  "People will die," he said, "There is no doubt about it."
A representative of the nurses' union spoke passionately about the dedication of the nursing staff through the recent years of financial uncertainty, and the unwavering commitment maintained to their patients. 
Much of the discussion revolved around the lack of support by local and State politicians, and alleged backroom deals which resulted in pulling the plug on the institution.  Speakers demanded that the hospital stay open while events leading to the final decision were investigated. 
In all likelihood this will not happen.  The hospital just could not get past its whopping $700 million in debt plus continued monthly losses.  Several local hospital systems looked into partnering with the hospital, but nothing materialized. 
Meanwhile inside the hospital, services continue to be cut and inpatients are being consolidated on a few nursing units until they are discharged or transferred elsewhere.   Many people are openly in tears, hugging one another.  
The number of employees affected staggers my imagination.  I never realized how many people it takes to make a hospital work.  I never realized the camaraderie that develops among caregivers whose mission it is to care for sick people.  I have learned a great deal from this debacle, and will look at my future colleagues with a greater level of appreciation.
* * * * * * * * * * * * * * *
See related post:  The sinking of St. Vincent's Hospital in Manhattan