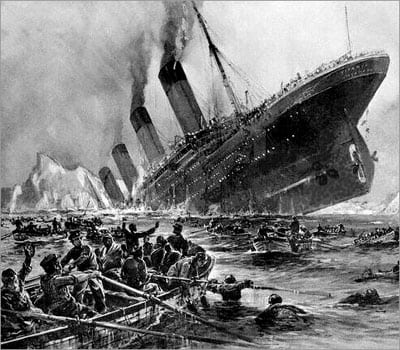 When the Titanic struck an iceberg and sank in April, 1912, survivors were brought to New York City by the rescue ship Carpathia.  They were unloaded on the West Side docks and brought directly to St. Vincent's Hospital where 106 of them were treated.   Now, In one of the saddest events I have witnessed in my decades of medical practice, St. Vincent's Hospital in Manhattan has announced that it will close.  The board has voted, and they have an- nounced that inpatient services will end.  The Emergency Room is no longer taking patients, and the operating rooms will be shuttered this week. 
Once a cherished neighborhood institution, St. Vincent's has served the West Village and New York City since 1849, and played a major role in caring for New Yorkers during the AIDS epidemic and 9/11 disaster.  I have been affiliated with this hospital for the past four years, seeing patients in the Wound Center and teaching geriatrics to fellows and medical students from New York Medical College. 
Over the past months there have been waves of layoffs and mandatory pay cuts.  All training programs for interns and residents have been terminated, leaving many young physicians scrambling for spots in other programs.  Nurses, secretaries, lab technicians, housekeeping personnel, and salaried doctors will be jobless.  Community docs who do not have privileges in other hospitals are busy filling out applications that may take months to approve. 
Last month one of my wound care patients looked at me with panic on his face.  "What do I do if the hospital closes?" he asked. 
Many businesses surrounding the hospital depend upon it to stay afloat.  Four months ago the deli where I get my coffee was packed every morning.  Now the owner has a forlorn expression of worry as he looks over his empty tables. 
Four years ago St. Vincent's came out of bankruptcy with a plan to build a new, modern hospital on the site of one of its older buildings, but this plan never went into effect.  The reader is invited to peruse articles below for details on the decline of this venerable institution over the past four months.   
I benefited greatly from my experience at St. Vincent's Hospital, and am saddened by its closure.  In better days I never experienced such upbeat and collegial doctors, and rarely have I seen harder working nurses.  I will surely miss the aging artists that I cared for as an attending physician there.  I am disappointed that a precious and historic community resource will be lost, with patients scattered, careers disrupted, and dedicated staff left jobless. 
But most of all I am concerned about health care in my City and the vacuum that is left for thousands of New Yorkers in Lower Manhattan.  Where will they go when the next disaster hits?
* * * * * * * * * * * * * * * * *  
For articles about the hospital's decline, please read the following news items:
St. Vincent's Hospital on life support,  CBS New York,  January 26, 2010,
The decline of St. Vincent's Hospital,  New York Times, February 2, 2010,
St. Vincent's Hospital laying off doctors,  Crains New York Business, February 10, 2010,
Mount Sinai vetoes partnership with St. Vincent's,  New York Times, April 1, 2010,
Last rites for doomed St. Vincent's,  New York Post April 2, 2010,
Ambulances stop serving St. Vincent's Hospital, Crains NY, April 8, 2010,
With the closing of a hospital, women's childbirth options diminish, New York Times, April 9. 2010,
As St. Vincent's closes, other hospitals get busier, New York Times, April 11, 2010.