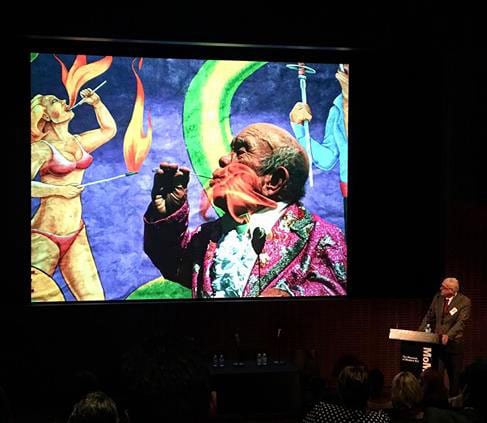 It was my pleasure and honor to speak today at the Museum of Modern Art in a lecture entitled "Picturing Aging: The View From a Geriatrician."  The talk presented my portfolio of images of aging, and discussed the relationship between art and growing old.  It was sponsored by MOMA's Prime Time Exchange – a program that brings art to community dwelling seniors.  This program serves as a model for cultural agencies locally and nationwide to serve older adults.
This was a great opportunity to combine art with medicine for a great cause.  A special thanks to Lauren M. Click, Director of Community and Public Programs at the Bronx Museum of the Arts, who took this shot and posted on her Instagram account @rockeraclick.
The photo above appeared on a cover of The Gerontologist from February 2008 and features Mr. Poobah, a fire-eating dwarf who performs in circus side-shows. For more of the back story on my TG covers click here. 
For more info on MOMA's Prime Time Exchange program click here: https://www.moma.org/learn/community/primetime
.