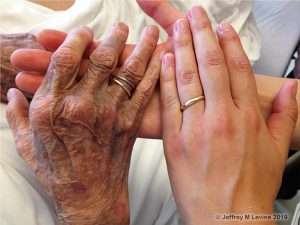 My review article entitled Clinical Aspects of Aging Skin is now online in the January edition of Advances in Skin & Wound Care, and is available on line at this link.  This article is filled with practical information for the wound care practitioner, but does include some basic information including anatomy of aging skin and current theories of aging.
When writing this review I searched around for a good schematic diagram that demonstrated aging skin but had a hard time finding one.  So I got out my art supplies and did my own diagram based upon available information on anatomy and physiology of aging.  Here it is below.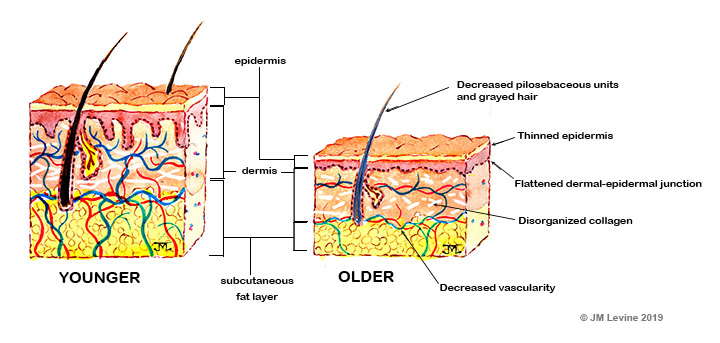 This review also presents the latest information on skin failure and how the concept of SCALE, or Skin Changes at Life's End, intersects with current understanding of frailty.  There is also an illustrated case report skin failure and a table of physiologic and anatomic factors that increase the vulnerability of skin. 
Beause this is a Continuing Education article it is available  free without signing in, plus you can get CE credits by taking the quiz.  I hope you find this article useful.  Special thanks to Advances and its editors for publishing my work!
* * * * * * * * * * * * * * * *
Related posts:
Is the Pressure Injury Staging System Obsolete?
Terminal Ulcer Terminology Reconsidered
Pressure Injuries and the Human Warranty
Wound Care in the Geriatrics Review Syllabus
Wound Care: What the Medical Director Needs to Know
Determining the Avoidability of Pressure Ulcers
Pressure Ulcers are an Under-Appreciated Public Health Issue