In most cases pressure ulcer prevention can be accomplished by risk assessment followed by common sense choices for pressure reduction.  In these days of evidence based medicine, health care providers need to listen to the evidence and implement best practices to reduce the incidence and prevalence of adverse outcomes such as pressure ulcers.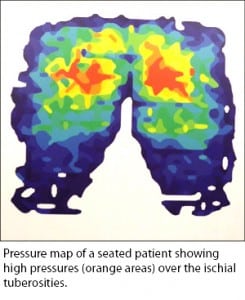 An important research article on pressure ulcer prevention recently came out in the Journal of the American Geriatrics Society.  This article proved what wound care clinicians already know – that special seating cushions in conjunction with properly fitted wheelchairs prevent pressure ulcers.
Improper wheelchair seating is an identified risk factor for pressure sore development.  Many wheelchair users suffer from seating discomfort and high sitting interface pressures.  Wheelchair cushions provide part of the solution, but must be accompanied by proper wheelchair fit to accommodate basic principles of body mechanics.
Researchers assigned nursing home residents into two groups.  The control group was not given a wheelchair and seating assessment and received a segmented foam cushion (SFC) not specifically designed for pressure redistribution.  The experimental group received a wheelchair mobility and seating assessment and a skin protection cushion (SPC) selected through pressure mapping.  It is no surprise that the experimental group had a statistically significant finding of fewer pressure ulcers.
Seating acquired pressure ulcers were defined as occurring in the ischial tuberosity area  Sacral ulcers were excluded as they occur primarily when supine in bed.  Average age of residents was in the mid-80's and the group had multiple comorbidities and severe mobility limitations.
Pressure mapping was used to assist selection of proper wheelchair cushions.  Pressure mapping uses a computer based sensor pad that gives digital readings of pressure information, showing areas of high and low pressure when seated.   The authors acknowledge that although pressure mapping is considered a "best practice" it is generally not used for most nursing home patients.
The authors conclude that residents who are wheelchair bound and at risk for pressure ulcers should be provided with a wheelchair mobility and seating assessment, properly fitted wheelchair, and skin protection cushion.  Given the enormous cost of pressure ulcers as well as the associated morbidity, investment in preventive technologies such as pressure mapping for choice of seating options may not be a bad idea.
* * * * * * * * * * * * * * * *
Similar posts:
The reference for this post was:  Brienza et al.  A Randomized Clinical Trial on Preventing Pressure Ulcers with Wheelchair Seat Cushions.  J Am Geriatr Soc. 2010 Dec;58(12):2308-14.