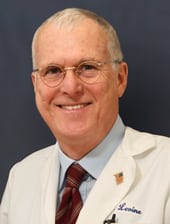 A major study published in The Gerontologist has shown that pressure ulcer prevention measures are lacking in high risk patients.  A research group based in the Department of Epidemiology and Preventive Medicine at the University of Maryland School of Medicine studied elderly patients with hip fractures, following them across care settings that included hospitals, rehabilitation facilities, and nursing homes and found inadequate use of pressure-redistributing support surfaces (PRSS) across the board.  These findings point to the urgent need to improve pressure ulcer prevention for patients at high risk.
Risk for pressure ulceration is determined by clinical assessment and applying a risk-factor measurement tool.  Clinical assessment includes performing a history and physical examination, and making a determination based on medical and physiological factors whether a patient is at risk for developing a pressure ulcer.  Considerations may include recent surgery in combination with other factors such as anemia, lung disease, and cardiac dysfunction.  The most commonly used risk-factor assessment tool is the Braden Scale, which takes into consideration sensory perception, moisture, activity, mobility, nutrition, friction and shear.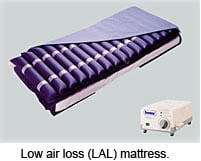 Clinical practice guidelines recommend pressure redistribution surfaces in patients at risk for developing pressure ulcers.  Appropriate use of a pressure reduction device has been identified as a quality indicator in healthcare settings. There are several types of surfaces available, and these are classified as powered and non-powered devices.  Surfaces can also be divided into mattress overlays applied between the mattress and the patient, and mattress replacements which take the place of a standard hospital mattress.  Non-powered devices include foam or air-filled mattress overlays, while powered devices can be either overlays or mattress replacements.  The most common powered mattress overlay is the alternating pressure air-mattress, or APAM, and the most common mattress replacement system is the low air loss (LAL) device.  Grouped together, these devices are called pressure-redistributing support surfaces (PRSS).
This study determined that pressure ulcer risk factors had little impact on the use of PRSS.  Even when the Braden Scale determined the patient to be at high risk, pressure reduction surfaces were not adequately utilized.  These surprising findings applied across care settings including hospitals, rehabilitation, and skilled nursing facilities.  Even when patients were readmitted to the hospital with medical complications, the use of pressure redistribution surfaces was lacking. 
Authors of this study postulate that health care providers may lack sufficient knowledge regarding recommended methods of pressure ulcer prevention.  They also mention "supply-sensitive variation in care," which may mean that facilities had neither the money nor the inventory of devices to meet the needs of the patients.  Whatever the reason, there is an urgent need to improve pressure ulcer prevention measures in all health care settings.  This effort will require staff education and reassessment of the entire system of care to prevent this costly and debilitating disease. 
* * * * * * * * * * * * * * * * * * *
Primary reference for this post was The Gerontologist, 50 (2), pp 253-262, 2010. 
See related post:  Optimizing a Hospital System to Prevent Pressure Ulcers
For NPUAP standards on pressure ulcer prevention surfaces click here.
For more information on the Braden Scale click here.