The Pocket Guide to Pressure ulcers authored by myself and Elizabeth Ayello RN PhD has sold over 11,000 copies and is now going into its second printing.  Published by the New Jersey Hospital Association, the new version has been updated with consideration of Centers for Medicare and Medicaid (CMS) staging guidelines and MDS 3.0: Skin Conditions, which applies to long-term care facilities.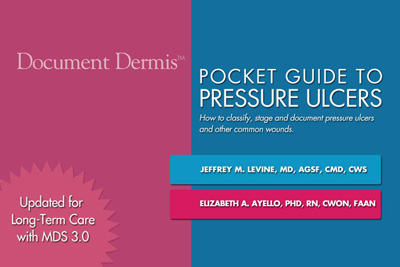 In the pressure ulcer staging guidelines issued by CMS, the preference is to use Arabic numerals, even though guide- lines issued by the National Pressure Ulcer Advisory Panel (NPUAP) use Roman numerals.  Our original release of the Guide presented pressure ulcer stages using Roman numerals, but our new revised version has been updated in line with CMS preferences.
Two pages of the prior version of the Pocket Guide were devoted to pressure ulcer staging under MDS 2.0 for long-term care, which is no longer in use as of October 1, 2010.  These pages were eliminated and replaced with an expanded, four page introduction to MDS 3.0 Section M: Skin Conditions.  We understand and acknowledge that this section is so complex that four pages cannot possibly cover all procedures related to MDS 3.0 coding, and the reader is referred to other sources.  See my blog post on educational downloads to understand and properly code MDS 3.0 Section M: Skin Conditions.
Since its original release in March 2010, the Pocket Guide has become extremely popular with clinicians in both nursing homes and hospitals.  The bold, clear photographs and pressure ulcer diagrams take a lot of the guesswork out of wound identification and staging.  NJHA has done a phenomenal job of quality printing with spiral binding and laminated pages that will hold up to prolonged bedside usage.
* * * * * * * * * * * * * * * *
The complete name of this book is Pocket Guide to Pressure Ulcers:  How to Classify, Stage, and Document Pressure Ulcers and Other Common Wounds, and is available for purchase directly from the New Jersey Hospital Association website.
Related posts:
New Pocket Guide to Pressure Ulcers.
Update on Blister Pressure Ulcer Staging from CMS for MDS 3.0 Section M: Skin Conditions (Guest post by Elizabeth A Ayello RN, PhD).
Clinicians Love the Pressure Ulcer Guide.