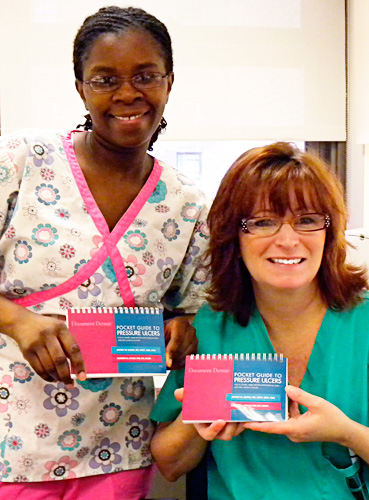 The Pocket Guide to Pressure Ulcers, co-authored by myself and Elizabeth Ayello PhD, RN has become a hit with clinicians.  Published by the New Jersey Hospital Association (NJHA), we designed this book to be a handy quick reference for doctors, nurses, and other healthcare professionals who need informa- tion on staging and identification of pressure ulcers and other wounds, and preliminary reviews are very encouraging. 
The book has been out for only three months and NJHA has sold thousands of copies.  State Departments of Health and Quality Improvement Organiza- tions (QIO's) are looking to purchase quantities in bulk, as well as some large hospitals and home nursing companies. 
I passed out a handful to my physician colleagues at the recent AMDA annual meeting in Long Beach, California and the first comment was invariably, "Wow this is great!"  I also had a lot of positive response from nurses in my wound clinic.  Users love the bold, clear line drawings and photographs of pressure ulcer stages, and the laminated pages guarantee that the book will last through a long day of patient care.  Personally, I like the way it slips easily into the pocket. 
Our goal in putting this guide together was to improve quality of care for patients with wounds.  Nearly a year and a half ago, when Elizabeth Ayello and I presented a mock-up version of the Guide to Theresa Edelstein, Vice President of Continuing Care Services at NJHA, she immediately realized the value of the project.  The design and marketing staff at NJHA got the job done with quality printing and a price that doesn't scare people away. 
Clinicians who practice wound care know that the battle never ends.  An aging population with multiple comorbidities guarantees that pressure ulcers will not be wiped out any time soon.  I hope that this book will continue to educate and help clinicians on the front lines. 
* * * * * * * * * * * * * * *
To purchase Pocket Guide to Pressure Ulcers:  How to classify, stage and document pressure ulcers and other common wounds click here.   click here. 
To access all blog posts on the Pocket guide to Pressure Ulcers click here