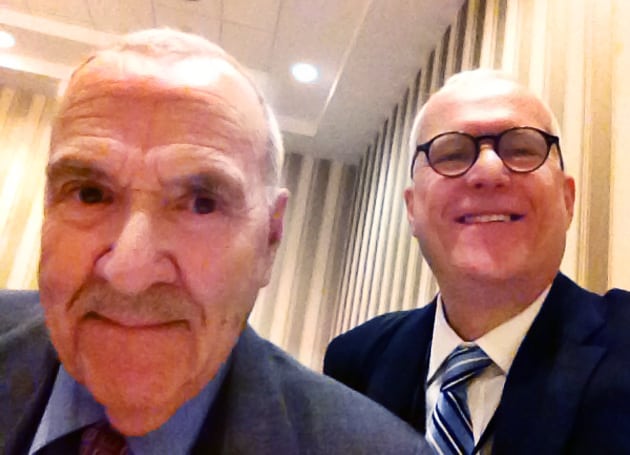 Were it not for Leslie S. Libow I would not have entered the specialty of Geriatrics. This past weekend at the annual meeting of the American Medical Directors Association (AMDA), I sat in the audience as Dr. Libow received the prestigious James Patee Award for Excellence in Education. Afterward I had the opportunity to schmooze with my former mentor, whose photo is above.
In 1983 I was in the middle of my Internal Medicine training in the University of Medicine and Dentistry of New Jersey, still undecided about a career direction. One evening while on-call I was flipping through journals in the medical library and came across an article entitled Geriatric Medicine and the Nursing Home: A Mechanism for Mutual Excellence. In this article, Les Libow wrote:
"Our work is a pleasure, yet the outsider often wonders how we do it. Like so many of you, I enjoy older people. I like the art of medicine. I like the process of science. I am attracted to humanism and social-psychological dynamics. I favor the underdog. I enjoy a struggle and advocacy. Geriatrics and gerontology have satisfied those desires in me more than a person can hope for."
When I read this article I had completed my MD degree plus two years of medical training, and never had any formal lectures on aging. I enjoyed my older patients and recognized they sometimes did not get the care they required or deserved. Impressed with his passion, I applied to the Mount Sinai Medical Center where I completed my fellowship in geriatrics under the leadership of Drs. Les Libow and Robert N. Butler. After fellowship I continued to work under Dr. Libow for six years where I developed my interest in pressure ulcers and wound care.
Les Libow envisioned the nursing home as a major center of activity in the nation's health care scene, and an extension of the medical school health sciences campus. He saw the geriatrician as "the fruition of the clinician," and was ahead of his time with advocacy of a patient-centered approach to the frail elderly using a team approach.
The field of geriatrics never achieved the popularity and pre-eminence advocated by our leaders. Indeed there is discussion as to whether the specialty will even survive. This is astounding when one considers that never in history has America contained so many older people, or such a large percentage of them. However I have no regrets about my decision to enter the field. Looking back on my career as a geriatrician, I agree completely with Les Libow's impressions that were published over three decades ago.
* * * * * * * * * * * * * * * *
Related posts:
Shakespeare, the Diversity of Aging, and the Need for Geriatrics
Geriatric Patients are Different
Retooling for an Aging America:  The Thud that Should Have Been a Bang
Recertification in Geriatrics Completed
References for this post include:
Libow LS. Geriatric Medicine and the Nursing Home: A Mechanism for Mutual Excellence. The Gerontologist (1982) 22 (2):134-141.
Golden AG et al. Is Geriatric Medicine Terminally Ill? Annals of Internal Medicine (2012), V 156, p 9.
.