I am thrilled to announce that registration is now open for my webinar entitled History of Pressure Ulcers and Wound Care: Past, Present and Future, sponsored by the National Pressure Ulcer Advisory Panel (NPUAP). This event takes place on November 19th at 1:00 PM EST, and coincides with World Wide Pressure Ulcer Prevention Day 2015. My discussion covers such topics as wound care in Ancient Egypt, wounds in Greek mythology, and the healing recipes of Hippocrates. I will also discuss the Ancient Hebrews, whose wound care principles were written in the Talmud – the oral laws that tradition states were passed down from Moses.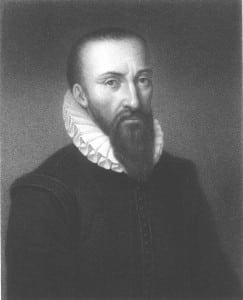 Ambrose Paré, pictured at right, lived in the 16th century and pioneered major developments in wound care, including abandonment of the practice of pouring boiling oil on a fresh wound. What is less known is how he cured a pressure ulcer in a nobleman recuperating from a war injury, which may be the first case report of a pressure ulcer in history. The treatments in his armamentarium included nutrition, pressure relief, aromatherapy, and pleasant noises such as the trickling of a fountain.
My agenda for this webinar will not only include ancient history, but the origin of contemporary controversies such as the avoidable-unavoidable debate which began in the 19th Century with Jean Martin Charcot. In the section on the 20th Century I will discuss pioneers such as Barbara Braden who, with Nancy Bergstrom, produced a scale to determine pressure ulcer risk which is now an industry standard. For the final part of my presentation, I polled NPUAP Board Members for their thoughts on major issues facing the future of research and practice.
It is my belief that understanding history gives insight into principles we use every day in today's practice. Indeed, some things that we think are new are actually thousands of years old. I hope you can join me in this webinar, to register please click on the link below.  Note that attendance is limited to 1000, so it's best to sign up soon. If you cant make the date, or if the attendance is full, don't worry as the webinar will be archived HERE on the NPUAP website.
Register for this webinar HERE.
Click HERE to view the webinar flyer.
* * * * * * * * * * * * * * *
Related posts:
Wound Healing Products: From Ancient to Modern Mythology
Wounds of a Boxer: Medical Secrets from Ancient Rome
Jean Martin Charcot's Lecture on Pressure Ulcers: An Important Historical Document
World Wide Pressure Ulcer Prevention Day
Wound Odor: The View from Ancient Greece
Government Data Sheds Doubt Upon Pressure Ulcers as a Quality Indicator
Pressure Ulcer as "Never Event": Fact or Myth?