I recently served as keynote speaker at the American Medical Directors Association annual meeting in Long Beach, California.  The reason AMDA picked me was my photos of aging, which you can view on my online portfolio.  The title of my talk was Geriatrics, Humanistic Medicine, & Art, and the goal was to weave together themes of art and medicine to draw conclusions as to how geriatrics is the most humanistic of medical specialties.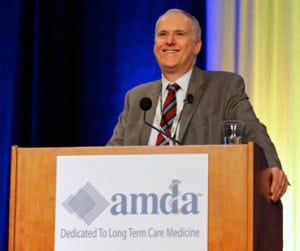 Humanistic principles were taught by Hippocrates, who is considered to be the founder of modern medicine.  Unfortunately in our days of advanced technology and managed care, humanistic principles have been lost or buried in our daily tasks as caregivers.  Basic humanistic principles are as follows:  
Technology is only one dimension in the approach to healing.

Healing requires the physician to understand the emotional, spiritual, and psychosocial aspects of illness.

Patients need to be seen as individuals not as diagnoses or CPT codes.

Patients need to be heard and understood.
It is my view that the basic tenets of geriatric medicine incorporates all of these humanistic principles.  I use my images of aging to illustrate this point, presenting older people in a sympathetic, non-stereotypical manner that is unique and different from our society's usual visual vocabulary.  In my talk, I give a tour of aging in America, from the residents who live in nursing homes to the independent elders in the community.  I present people who are immersed in life and relationships, contributing to our society, in celebration of life. 
My conclusion is that geriatric medicine is the most humanistic of medical specialties for the following reasons:
Geriatricians understand the limits of technology and our healthcare system.

Geriatricians understand the importance of the support system and psychosocial aspects of illness.

Geriatricians understand that caring takes time. 

Geriatricians understand the collaborative nature of caring.
Unfortunately geriatrics continues to be an unpopular specialty for doctors in training.  In addition, the poor reimbursement for the practice of geriatrics is an additional discouraging factor.  To turn the tide of disinterest for care of the elderly, there needs to be a realignment of financial priorities and a revamping of our system of medical education.  Incorporation of principles of geriatric medicine early in the medical curriculum will only improve the quality of care for all Americans. 
 * * * * * * * * * * * * * * *
See related posts: 
Retooling for an Aging America: The Thud that Should Have Been a Bang
How Will Health Care Reform Affect Geriatrics? 
Shakespeare, the Diversity of Aging, and the Need for Geriatrics
 Photo courtesy of the American  Medical Directors Association (AMDA)