We've come a long way since the first version of the Clinical Practice Guidelines for Pressure Ulcers was put together by the National Pressure Ulcer Advisory Panel (NPUAP) and released by the Agency for Health Policy and Research (AHCPR) in 1992. This resource became widely known as "The Purple Book" and was the first reliable compendium of pressure ulcer prevention and treatment. The latest edition of the Guideline was published in 2014 and introduced in detail at the NPUAP's 14th Biennial Conference in Orlando that just took place.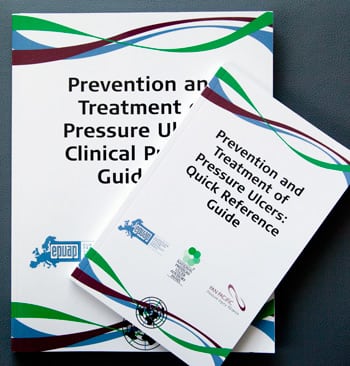 This Guideline was developed by the NPUAP, European Pressure Ulcer Advisory Panel and Pan Pacific Pressure Injury Alliance and presents a comprehensive review of the best available evidence related to assessment, diagnosis, prevention, and treatment of pressure ulcers. It comes in two parts: the Quick Reference Guide (QRG) and the Clinical Practice Guideline (CPG), both available for sale on the NPUAP website. The QRG presents state-of-the-art best practice recommendations for prevention and treatment, and the CPG provides a summary of research supporting each recommendation. There are new chapters on important issues such as medical devices, bariatrics, pediatrics, and persons with spinal cord injury.
These volumes provide a state-of-the-art synopsis of existing research and practice recommendations, and are an indispensable resource for clinicians, students, policy makers, and educators that is packed with references. Pressure ulcers continue to impact all vulnerable populations, and are a potentially devastating outcome that has important reimbursement, regulatory, risk-management, and medical-legal implications. I strongly recommend both the Quick Reference Guide and the Clinical Practice Guideline for anyone interested in these wounds.
* * * * * * * * * * * * * * * * *
This complete citation for this book is: National Pressure Ulcer Advisory Panel, European Pressure Ulcer Advisory Panel and Pan Pacific Pressure Injury Alliance. Prevention and Treatment of Pressure Ulcers: Clinical Practice Guideline. Emily Haesler (Ed.). Cambridge Media: Perth, Australia; 2014.
Purchase these books on the NPUAP website here.
Related posts:
Pressure Ulcers as "Never Event;" Fact or Myth?
Historical Roots of the "Avoidable-Unavoidable" Pressure Ulcer Controversy
Determining the Avoidability of Pressure Ulcers
New Research Sheds Light on Hospital Acquired Pressure Ulcers
New Pocket Guide to Pressure Ulcers
CMS recognizes the Kennedy Terminal Ulcer in Long-term Care Hospitals
Jeffrey Levine Becomes NPUAP Board Member
.