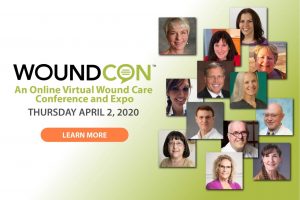 I am thrilled to be presenting on SKIN FAILURE at WoundCon, the first of its kind ONLINE Virtual Wound Care Conference and Expo. Brought to you by the publishers of WoundSource®,  this full-day virtual conference on Thursday, April 2, 2020 will include a series of CME/CE sessions focused on skills to improve clinical competency in managing acute and chronic wounds across the health care continuum.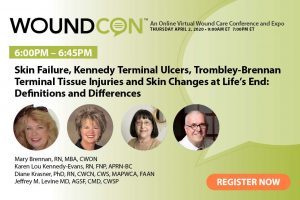 My session at 6:00 PM is entitled SKIN FAILURE: The Case for a Unified Classification System. My presentation will accomplish the following objectives:
Review the concept of skin failure in its historical context

Review factors in today's health care system that compel us to adopt the concept of skin failure

Review how terminal ulcer terminology and unavoidable pressure injuries fit into this concept

Suggest a path for the future
Distinguished co-speakers include Mary Brennan, Karen Lou Kennedy-Evans, and Diane Krasner.  I owe a big THANK YOU to WoundSource® for inviting me to present on this important topic!
Over 2000 attendees are already signed up.  Join me online April 2nd between 9AM-7PM for over 30 speakers and 12+ Sessions offering free CME/CEUs. Attend live or jump in when you can and watch on-demand replays all day. Learn more and register here: www.woundcon.com.
* * * * * * * * * * * * * *
Related posts:
Terminal Ulcer Terminology Reconsidered

Is the Pressure Injury Staging System Obsolete?

Pressure Injuries and the Human Warranty

Determining the Avoidability of Pressure Ulcers

Historical Roots of the "Avoidable-Unavoidable Pressure Ulcer Controversy"