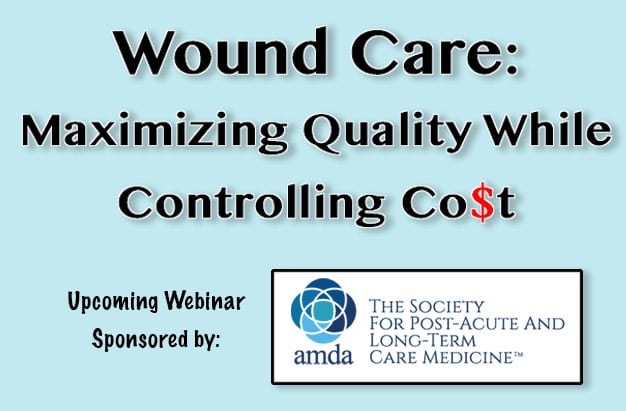 On Wednesday, October 24th I had the honor of delivering a webinar entitled Wound Care: Maximizing Quality While Controlling Costs, sponsored by The Society for Post-Acute and Long-Term Care Medicine.  The webinar will begin at 7:00 EST and last 1.5 hours.  I will be giving Part 1 which will include the following didactic material:
•  Importance of wound care in PA/LTC
•  What's new in the wound world?
•  Regulatory update
•  Types of wounds in PA/LTC
•  Principles of wound management
•  System considerations
•  Risk Management considerations
My co-presenter is Dr. Scott Bolhack who will give Part 2, presenting case examples from his extensive files.  Dr. Bolhack is Clinical Assistant Professor at the Department of Medicine, University of Arizona and President and CEO.  There will be fifteen minutes at the end reserved for audience questions. 
Webinar attendees are eligible for CME and CMD education credits.  If you miss the live section, the webinar will be archived on the PA/LTC website. This webinar is FREE to members of the Society for PA/LTC.  Non-member cost is $99.00. 
The content will include lots of material you cannot find in books and journals.  This will be an information-packed session and I hope you will be on-line to participate!
To register for this webinar please follow this link.  
RESOURCES:
Download a PDF of F-Tag 686: Pressure ulcers
Download my article in Caring for the Ages:  Wound Care: What the Medical Director Needs to know.  
Click here to order: Pocket Guide to Pressure Ulcers, authored by JM Levine and EA Ayello 
Click here for free download: NPUAP Quick Reference Guide: Prevention and Treatment of Pressure Ulcers