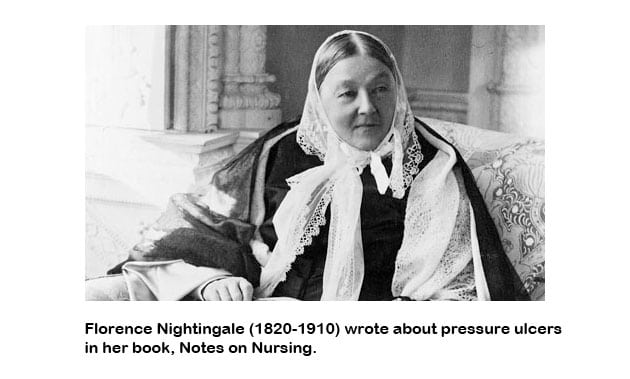 When Florence Nightingale published her seminal treatise in 1860 entitled Notes on Nursing, she wrote:
"if [the patient] has a bed-sore, it is generally the fault not of the disease, but of the nursing."
As an unintended consequence, pressure sores virtually dropped off the map of physician education. Throughout most of the 20th Century, pressure ulcers and skin care were considered to be "a nursing issue." The surge of the aging population and implementation of pay-for-performance policies have caused a turnabout in the standard of care for determining who is responsible for pressure ulcers.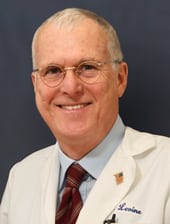 Pressure ulcer care is expensive.   Also known as decubitus ulcers, they add an estimated cost of one billion dollars per year, and 2.2 million Medicare days. The costs of treatment have been estimated as $2,000 to $40,000 per ulcer depending upon stage. Pressure ulcers can result in prolonged rehabilitation, surgical procedures, infections, sepsis, amputation, and death. Most experts agree that although many pressure ulcers are avoidable, not all ulcers can be prevented with currently available technology.  Clearly, pressure ulcers are everybody's problem, not just nurses.
As a clinician and wound care consultant, I am always teaching doctors about wounds, including the staging system and basic prevention and treatment. My book on staging has been out for about 2 years, and a revised edition is in progress. I am continuously surprised on how few medical doctors have been taught the basics of wound care.
One of my studies on physician knowledge was recently published in Advances in Skin & Wound Care. It is titled: Pressure Ulcer Knowledge in Medical Residents: An Opportunity for Improvement.  My co-investigators included world-renowned pressure ulcer authority Elizabeth Ayello PhD, RN, and Karen Zulkowski RN, CWS who has studied wound knowledge in nurses for years.
We tested medical doctors in training, and divided our results into 1) General knowledge and 2) Wound identification score. The average general knowledge score for physicians was 69% (± 8.8) with a range of 53 – 81. This score is well below the average score of 78% obtained from a large sample of nurses (n > 2000) in a variety of settings. Medical residents were best at identifying Stages 1 and 4 (> 75% correct), and worst at identifying suspected Deep Tissue Injury (sDTI) and Unstageable ulcers (> 75% incorrect). When compared to previously published data, our cohort of doctors knew less than most nurses about pressure ulcers.
Medicare's policy as of October 2008 is that they no longer reimburse hospitals for preventable complications, and at the top of the list are pressure ulcers. Denial of payment for pressure ulcers and related complications will essentially reward institutions with low ulcer rates, providing huge incentives to prevent this complication. A key aspect of this policy is accurate diagnosis and coding of pressure ulceration when present on admission (POA).
The bottom line is that doctors need to learn more about pressure ulcers.  In today's world physicians need to examine skin particularly on admission to the hospital, and be familiar with the wide variety of wound treatments.  Because geriatricians have already identified pressure ulcers as a "geriatric syndrome," we are well positioned to assume this important educational responsibility!
* * * * * * * * * * * * * * * *
To read the abstract of this publication on pressure ulcer knowledge in physicians click here.
To purchase a copy of Pocket Guide to Pressure Ulcers click here.
Related posts:
Determining the Avoidability of Pressure Ulcers
Pocket Guide to Pressure Ulcers
Updated Pressure Ulcer Guide Goes into Second Printing
.