The Geriatrics Review Syllabus, 9th Edition, also known as GRS9, has been released and I am thrilled to be author of the newly revised and expanded chapter on Pressure Ulcers.  The GRS9 is a comprehensive reference on geriatric medicine, a study guide for those preparing to take board examinations, and a teaching resource for residents, students, and other trainees.  GRS9 is updated every three years, and this version has 66 chapters covering the spectrum of geriatric medicine.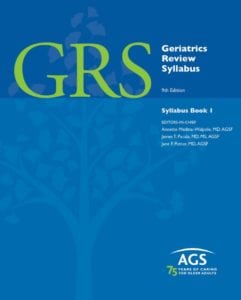 The pressure ulcer chapter took me about a year to complete, and contains subsections on prevention, treatment, and infectious aspects of wounds.  The chapter offers new discussions not included in past editions such as unavoidable pressure ulcers and palliative care for wounds.  The color photographs of wounds that illustrate the chapter were licensed from the National Pressure Ulcer Advisory Panel (NPUAP) image library. 
GRS9 is published by the American Geriatrics Society, a nationwide, not-for-profit, association of healthcare professionals dedicated to the health, independence, and quality of life of older people.  The book comes in both print and digital formats, and on a mobile APP. 
In addition to the 66 chapters, there are 350 case-based self assessment questions, with the option to apply for 100 Continuing Medical Education (CME) credits from the American Medical Association (AMA), and 100 Maintenance of Certification (MOC) credits from the American Board of Internal Medicine (ABIM).  Related educational products include an Audio Companion composed of interviews with each chapter author by the chief editor.  There are also educational slides and a separate edition designed for Advance Practice Nurses that also contains my chapter on pressure ulcers. 
Individual chapters can be purchased on the product detail page of www.geriatricscareonline.org.  AGS members can just sign in, but non-members need to register and create an account.  It was an honor to be asked to write the Pressure Ulcer chapter for this Core Curriculum in Geriatric Medicine, and a privilege to contribute to the continued growth of the field.
* * * * * * * * * * * * * *
Purchase the GRS9 or individual chapters here. 
Visit the home page of the American Geriatrics Society.
Click here for information on the International Interprofessional Wound Care Course coming up this summer.
Related posts:
Infections Related to Pressure Ulcers are Always Serious
Pressure Ulcers are an Under-Appreciated Public Health Issue
Historical Roots of the "Avoidable-Unavoidable" Pressure Ulcer Controversy
.