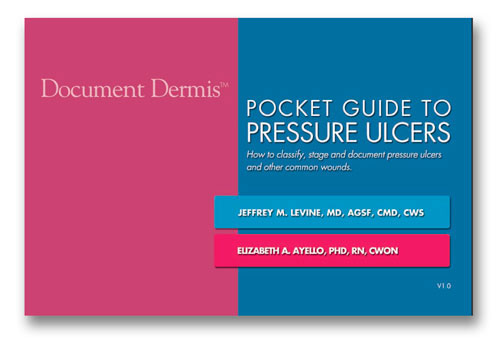 The Pocket Guide to Pressure Ulcers, authored by myself and Elizabeth Ayello RN, PhD, continues to grow in popularity.  Published by the New Jersey Hospital Association, the Guide covers staging and identification of pressure ulcers and other wounds.  This book is being purchased in bulk by several major health care organizations, to be utilized by clinicians working in home care, skilled nursing, rehabilitation, and hospital settings.  Sales numbers have exceeded 7,000 and still growing!
Buyers of the Guide include the Visiting Nurse Association of New Jersey, The St. Lawrence Rehabilitation Center, and Virtua Health.
The Visiting Nurse Association of New Jersey is a nonprofit organization and a recognized leader in home health care for more than 110 years.  Based in Morristown, NJ, they are one of the state's leading home care providers.  VNA has made a bulk purchase of The Pocket Guide to Pressure Ulcers for their front line clinicians.  Mary Ann Christopher MSN, RN, FAAN, President and CEO of VNA of Central Jersey said of the Pocket Guide:
"This is a great tool for all clinicians providing wound care. The ability to accurately identify, stage, and document pressure ulcers leads to improved patient outcomes and enhanced communication and collaboration among clinicians and team members across the health care continuum. In addition, the use of evidence-based risk assessment tools and preventive strategies outlined in the guide will ensure significant cost savings to health care organizations."
Other bulk purchasers of The Guide include the St. Lawrence Rehabilitation Center and Virtua Health.  St. Lawrence is a 129 bed rehabilitation hospital in Lawrenceville, New Jersey with 53 rehab beds and 73 long term care beds.  This facility offers a wide range  of rehabilitation services including physical therapy, occupational therapy, speech therapy, therapeutic recreation.   They also offer special programs in brain injury rehab, vision rehab, driving therapy, and dysphagia therapy. 
Virtua Health is a comprehensive healthcare system headquartered in Marlton, NJ, consisting of four hospitals, an ambulatory care center, and a health and wellness center.
Our intention in putting this book together was to improve care of patients with pressure ulcers and other chronic wounds.  Elizabeth Ayello and I are gratified that we are reaching this goal.
* * * * * * * * * * * * * * * * * * * *
To purchase your copy of The Pocket Guide to Pressure Ulcers click here.  Bulk discounts are available for institutions. 
See related post:  New Pocket Guide to Pressure Ulcers.