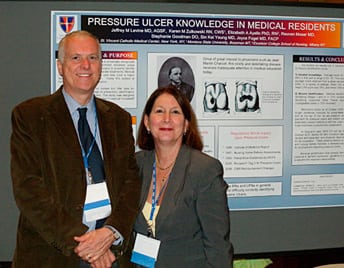 The Answer:  Not as much as nurses!!
This past weekend I presented a new study on how much medical residents know about pressure ulcers at the American Geriatrics Society (AGS) Annual Scientific Meeting in Orlando, FL.  In our research we tested medical doctors in residency training at a major New York City hospital.  For those of us who do wound care on a day-to-day basis, our results were not so surprising. 
My co-investigators included world-renowned pressure ulcer authority Elizabeth Ayello PhD, RN, and Karen Zulkowski RN, CWS who has studied wound knowledge in nurses for years.  Other co-investigators included St. Vincent's Hospital Chief of Geriatrics Joyce Fogel MD, and geriatric fellows Reuven Moser MD, Stephanie Goodman DO, and Sin Kei Yeung MD. 
We divided our results into 1) General knowledge and 2) Wound identification score.
1) General knowledge.  Average score for physicians was 69% (± 8.8) with a range of 53 – 81. This score is well below the average score of 78% obtained from a large sample of nurses (n > 2000) in a variety of settings.
2) Wound identification.  Medical residents were best at identifying Stages I and IV (> 75% correct), and worst at identifying suspected Deep Tissue Injury (sDTI) and Unstageable ulcers (> 75% incorrect).
Medicare's policy as of October 2008 is that they no longer reimburse hospitals for preventable complications, and at the top of the list are pressure ulcers. Denial of payment for pressure ulcers and related complications will essentially reward institutions with low ulcer rates, providing huge incentives to prevent this complication.  A key aspect of this policy is accurate diagnosis and coding of pressure ulceration when present on admission (POA).
In long-term care, MDS 3.0 will be implemented in October 2010, Section M: Skin Condition has been radically revised and expanded, and physician input will be essential for its completion.  These pressing factors in both hospitals and nursing homes mandate a renewed educational effort for all physicians regarding pressure ulcers. 
The bottom line is that doctors need to learn more about pressure ulcers.  Because geriatricians have already identified pressure ulcers as a "geriatric syndrome," it is my opinion that geriatricians are well positioned to assume this important educational responsibility –  provided that they know the basics! 
 * * * * * * * * * * * * * * *
To view all blog posts on pressure ulcers and wound care click here.