I recently was called to consult on a man whose sternal wound was being treated with negative pressure wound therapy (NPWT). He had undergone a coronary artery bypass operation and his chest wound had opened up. His doctor prescribed NPWT but after the third day the canister was filling with blood and clots. The wound had started bleeding, and the NPWT device was sucking blood and possibly bone marrow from the sternal incision. I removed the device and replaced it with petrolatum impregnated gauze covered with foam and skin tape.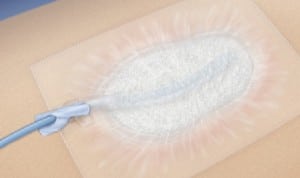 NPWT consists of sterile foam placed within or on a wound. A suction tube is placed within the foam and the bandage is covered with an air-tight dressing which adheres to the skin edges. Constant negative pressure is applied, and exudate collects in a canister that collects waste material. NPWT therapy promotes wound closure by increasing blood supply, promoting granulation, decreasing edema and bacterial colonization. NPWT has achieved wide acceptance and is commonly used in hospitals, nursing homes, and home care for non-healing wounds.  It goes under such brand names as VAC Therapy, RENASYS, and Engenex.
But recently there have been safety risks associated with this therapy. The Food and Drug Administration (FDA) requires practitioners to report deaths and serious injuries associated with medical devices, and recently released a Public Health Warning on negative pressure wound therapy. Over the two years preceding November 2009 the FDA received reports of 6 deaths and 77 injuries, with the most serious complication being bleeding. The following is a list of injuries described by the FDA:
•  Bleeding
•  Worsening infection
•  Retention of foam dressing pieces within the wound
•  Foam adhering to tissues or becoming embedded in the wound
The FDA urges careful choice of patients who receive NPWT, and encourages vigilant monitoring. NPWT is contraindicated for these wound types/conditions:
•  Necrotic tissue with eschar present
•  Untreated osteomyelitis
•  Non-enteric and unexplored fistulas
•  Malignancy in the wound
•  Exposed vasculature
•  Exposed nerves
•  Exposed anastomotic site
•  Exposed organs
You can access the FDA Safety Alert on negative pressure wound therapy here.  The FDA site also contains a video on the mechanism of NPWT and also gives a review of potential complications.
* * * * * * * * * * * * * * *
Similar posts:
New Research Sheds Light on Hospital Acquired Pressure Ulcers
Teaching America How to Assess Wounds
Determining the Avoidability of Pressure Ulcers
Graphic of NPWT dressing used with permission of Smith & Nephew Wound Management.