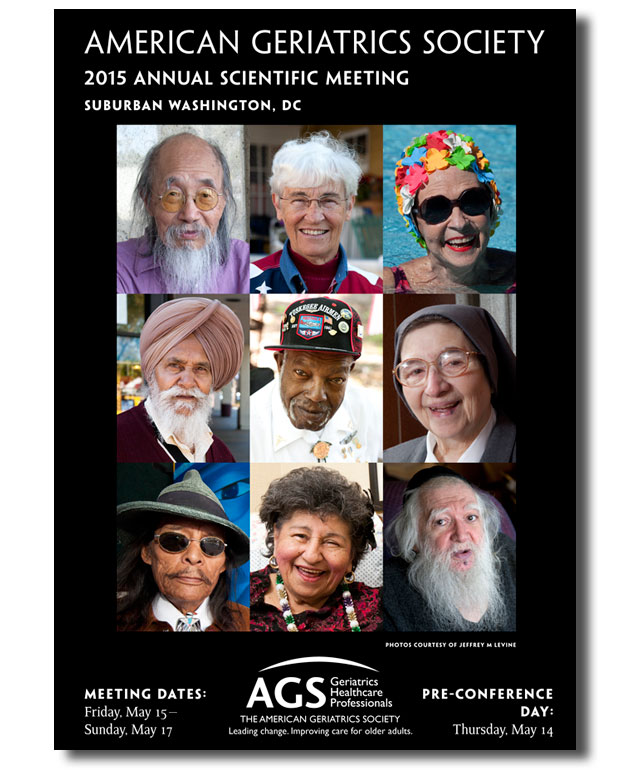 I was thrilled when the American Geriatrics Society contacted me seeking images for the program cover of next year's annual meeting. I spent hours flipping through my portfolio and found several suitable shots. Gradually I realized that to represent aging in America I would need a variety of images that depict strength, optimism, and diversity. With the help of AGS staff and William Adams, Senior Graphic Designer at Fry Communications, we put together the design featured above.
The program cover features remarkable people who I met and photographed over the years. Top left is Kim Chan who began work in a laundry but spent his life acting in feature films. Top middle is JoAnn, one of the Freeport Flag Ladies in Maine who drum up patriotism and the love of freedom. Top right is Edith McAllister, a grandmother who enjoyed waterskiing at age 90. Middle left is Mr. Singh, an immigrant from Pakistan who regularly socializes with compatriots at a shopping mall in Fremont, California. In the center is JT Freeman, one of the original Tuskegee Airmen who broke racial barriers in WWII and proudly wears a Congressional Medal of Honor on his chest. Middle right is Sister Lucille, who came from Italy to work with impoverished sick people in New York City. Bottom left is Brandon Williams, a Navajo artist who paints visions of his ancestors. Bottom middle is Beatrice Arredondo who claims Hispanic and Cherokee heritage and lives in a long-term care facility in Texas that adapted to Latino culture. Bottom right is Lionel Ziprin, a poet and mystic in New York City who took part in the countercultural movement of the 1960's.
There is a message in this design. Our aging population in America is vast and diverse. Growing old is a human journey that most of us will experience thanks to advances in hygiene, nutrition, and medical care. What all people share is that no matter the ethnicity or culture, underneath we are constructed of flesh and blood – with similar anatomic and physiologic changes as the body adapts to passing years.
Aging is not a popular topic to look at, as most people would rather see flowers, dogs, parakeets, or children. Few would embrace images that tweak insecurities about wrinkled skin and thoughts of mortality. However the phenomenon of aging is intertwined with the fabric of our lives, and the scope of its impact on our society and healthcare system has yet to be measured. Most experts agree that we are not prepared to accommodate the healthcare needs of the Baby Boomer generation.
This brings me to the importance of the American Geriatrics Society – a not-for-profit organization of professionals devoted to improving the health, independence and quality of life for older people. They aren't interested in viewing older people as a market for Viagra, skin creams, and testosterone supplements as we see from pharmaceutical companies on prime-time TV. Rather they provide leadership in education and policy, and advocate research, quality patient care, and health in old age. I am both pleased and proud to have the AGS feature my photographs on their program.
* * * * * * * * * * * * * * *
Related posts:
Aging Across America: Exhibit chronicling Americans' stories stops at Indiana State University
MetLife Foundation Funds Exhibit on Aging
Looking at Sturgis on the cover of The Gerontologist
Aging Inside Angola State Penitentiary
Photographing America's Aging Heroes: The Tuskegee Airmen
Aging Across America Visits a California Shopping Mall
Redefining Aging in the 21st Century
Myths and Realities of Blue Zones and Aging in America
The Flag Ladies of Freeport, Maine
Jubilation and Aging Hippies in Times Square
Aging Rock 'n Rollers Take Manhattan's West Side
The Woodstock Generation Comes of Age
Art, Geriatrics, and Venice Beach
Another Cover Photo on The Gerontologist
15 Years of Covers on The Gerontologist
Ping Pong, Aging, and the Disuse Syndrome
My Patient with the Tattoo
The Twilight of Jewish Miami
.