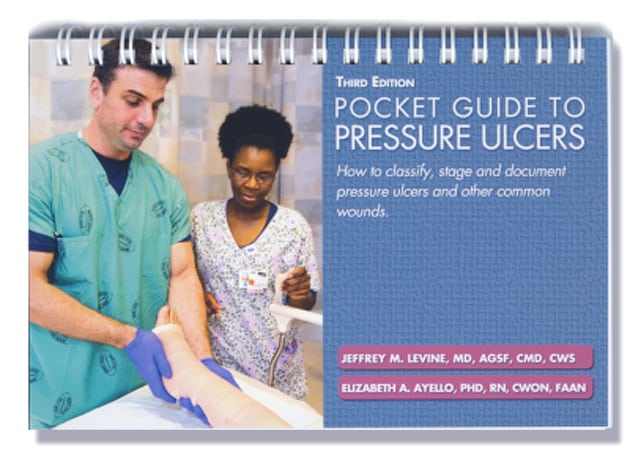 In an unusual agreement between the New Jersey Hospital Association, the Centers for Medicare and Medicaid Services (CMS), and the New Jersey Department of Health, the Pocket Guide to Pressure Ulcers authored by myself and Elizabeth Ayello PhD, RN will be distributed to skilled nursing facilities across the state of New Jersey. Money collected through Civil Monetary Penalties for survey deficiencies will pay for purchase and distribution of the Pocket Guide.
The New Jersey Hospital Association (NJHA) is a national leader in initiatives to reduce the incidence and prevalence of pressure ulcers especially since its pressure ulcer reduction collaborative began in 2005. This Pressure Ulcer Collaborative accomplished a 70% reduction in the incidence of new pressure ulcers in its 150 participating healthcare facilities over a two year period. NJHA invested in producing and distributing the Pocket Guide to Pressure Ulcers which is now in its 3rd printing and has sold thousands of copies across America.  The book was designed to assist in bringing education to the practitioner in an easy portable format for use at the bedside to help translate pressure knowledge into better practice outcomes.
The Pocket Guide to Pressure Ulcers is reasonably priced and lavishly illustrated with diagrams and photographs, tables and mnemonics designed to demystify pressure ulcer staging and wound identification. Pages are laminated for durability for daily use by front-line caregivers. The book addresses topics such as changes in aging skin, wound identification in darkly pigmented skin, and identification of infection. The 3rd Edition has added topics on regulatory coding and a section for long-term care clinicians who use the Minimum Data Set (MDS).  The book is available in English and Spanish. 
My co-author, Elizabeth Ayello PhD, RN, APRN, BC, CWOCN is an internationally recognized expert on pressure ulcers and past president of the National Pressure Ulcer Advisory Panel. Her numerous publications include the textbook Wound Care Essentials published by Lippincott Williams & Wilkins.
Civil Monetary Penalties (CMP) are fines imposed by the regulatory agencies that license nursing homes if a facility does not comply with regulatory standards. The fines are intended to be a deterrent to poor care, and also provide funding to improve quality.
I am thrilled to be a part of this innovative use of CMP dollars to improve pressure ulcer prevention and treatment.
* * * * * * * * * * * * * * *
Useful links:
Purchase the Pocket Guide to Pressure Ulcers here.
Wound Care Essentials edited by Sharon Baranoski MSN, RN, CWOCN and Elizabeth A. Ayello PhD, RN, APRN, BC, CWOCN
Related posts:
Common Questions on Coding for MDS 3.0 Section M: Skin Conditions
Straight Talk on Reverse Staging of Pressure Ulcers
Determining the Avoidability of Pressure Ulcers
.