[portfolio_slideshow]
I hope my watercolor teacher, the great master Tim Clark, is reading this. After two years of struggle I am finally beginning to wrap my brain around color theory, and catch on to basic principles of watercolor. For this post I am publishing my sketchbook for the months I spent living in Washington Heights with my wife while our apartment was being renovated.
Somewhere along the way on my life in medicine I stopped drawing and put my materials into storage. Two years ago I pulled my dusty pens and brushes out and went back to the Art Students League to see if I still had it. My first steps were rusty and awkward, and I truly worried if I had lost the abilities I had expressed so many years back.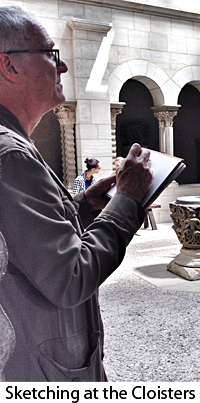 Although my black and white skills were fairly decent, I never quite mastered the use of color. I decided to stretch my boundaries and get past lines, so I bought new paints and a few books, and a ticket to a watercolor class. For what seemed like an eternity I was completely mystified by the concepts of warm and cool, and needed to post a color wheel in front of me whenever I opened my paints.
I filled a couple of dozen sketchbooks with color studies and small sketches. By the time I moved to Washington Heights I had just begun to feel comfortable with paints and brushes. The move was actually helpful because I took only the bare minimum of equipment with me, thus lessening distractions. Making the time was not easy, and I got into the routine of painting for an hour beginning at 5 AM every day. This wasn't as hard as it sounds because I found it hard to sleep in my new place.
The new environment way uptown brought inspiration. Our apartment was straddling the border of an Orthodox Jewish and a Dominican neighborhood. On the weekend the streets were crowded with well dressed people on the way to synagogue, and a few blocks away were the bustling Hispanic markets, beauty parlors, old folks playing dominos, and the Cloisters. At every opportunity I went out exploring with my sketchbook, sometimes doing plein aire and sometimes working at my desk before dawn.
I find that the finicky medium of watercolor provides an escape from the world of electronic connectedness and information overload. The flow of color, the feel and balance of a fine sable brush, and the combination of hues and textures as they come together create magic on a blank sheet of paper. 
I don't know whether my teacher Tim Clark will like this work. I still use too much line and my tonal scales are way out of control. I think I have soaked up a small fraction of Tim's wisdom, and will certainly return for more.
* * * * * * * * * * * * * * *
Related posts:
Maine Watercolor
Sukkot at the Sages
Medical School Memories
The Corpus Callosum, Buddha's Enlightenment, and the Neurological Basis for Creativity
Painting, Poetry, and Medicine: Charles Demuth and William Carlos Williams
Visitng Dr. Chekhov
Venice Beach Sketchbook
Sketching on the Left Bank
.