[portfolio_slideshow exclude=9776]
I went to India with the intention of photographing aging, but was unprepared for the intense spirituality, crush of crowded streets, and the depth of poverty. Part of my trip was a visit to the Buddhist pilgrimage site of Bodh Gaya, in the state of Bihar in northeast India. Outside the gates of the sprawling complex of temples was an elderly woman with an imposing stick wandering among the beggars, whose photograph is now on the cover of The Gerontologist.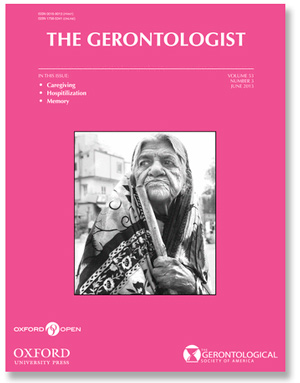 Some of the beggars had horrible physical deformities and were unable to walk, sitting on worn mats with hands outstretched. One young girl carried a drooling infant that looked sick with yellow discharge coming out of an eye. Rows of sad looking children dressed in rags held their hands out.
There is no census of beggars in India, but they no doubt would number in the tens of thousands. Bihar is the poorest state in India, with over fifty percent of the population below the poverty line. The depth of poverty that you see at any time is crushing, and unlike anything ever seen on America's streets. The visual experience of poverty in India is compounded by the dust that stings your eyes, and punctuated by the sweet smells of spice and incense.
This lady walked purposefully with her stick, aggressively approaching the tourists and pilgrims. I noticed that the child beggars studiously avoided her, keeping a distance equivalent to the length of the stick she used to steady herself. She moved among the crowds with surprising agility, considering that she walked barefoot on cobbled stones.
She allowed me to take several shots before wandering off. I submitted this particular image to The Gerontologist because it captured her intensity of gaze, the sharp lines of her face, the lovely pattern of her sari, and the gnarled hand clutching her stick. For the slideshow above I combined several images of aging, poverty, and spirituality – all from my unforgettable trip to this amazing country.
* * * * * * * * * * * * * * *
Related posts:
In Search of Aging and Mother Teresa in India
The Corpus Callosum, Buddha's Enlightenment, and the Neurologic Basis for Creativity
An Unexpected Religious Festival in India
Experiencing the Winter Solstice on Isla del Sol
Photographing Los Ancianos of Bolivia
.