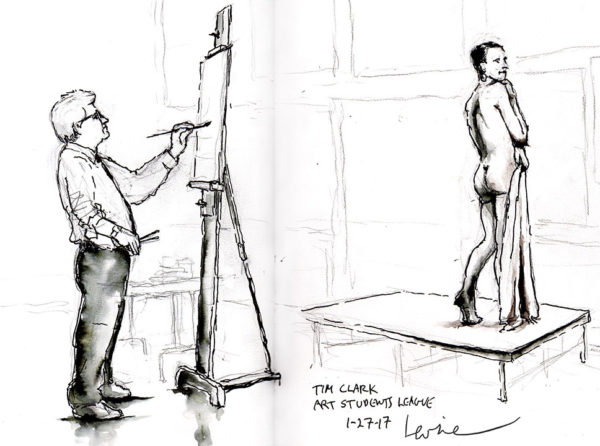 In recent years I've devoted considerable time to developing my artistic skills.  To do this I've sought out teachers who inspire and help hone my ability to convey line, form, and emotion with pen, ink, and paint.  This post will present a few of those teachers who left a deep impression on me and helped me get started.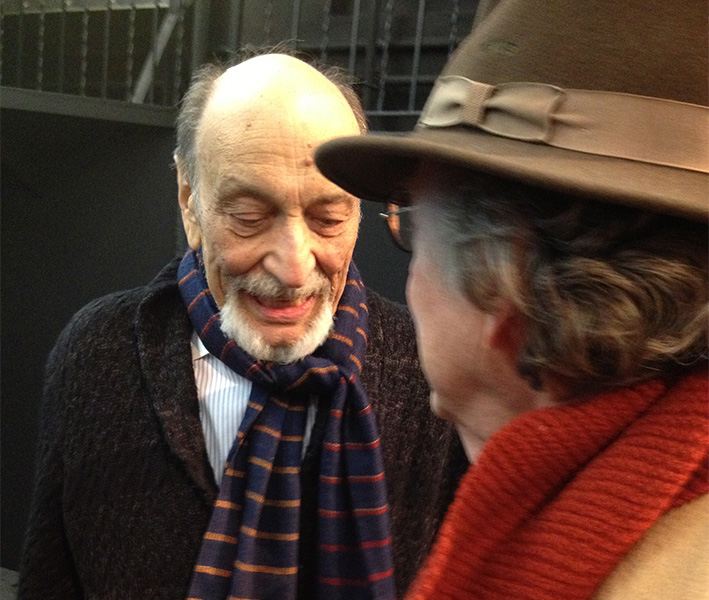 This is Milton Glaser, a legend in the design world.  He is known for his iconic images that include the Bob Dylan poster in the 60's and the I♥NY logo.  I met him through classes at the School of Visual Arts in Manhattan where he taught.  The door of his studio has a sign that says "Art is Work" which is a major lesson in itself.
This is my sketch of Alvero Castagnet doing a demonstration in a boatyard in Belfast, Maine.  The sketch is smeared because it started to rain.  Alvero is a masterful watercolorist, and I took a workshop with him through Coastal Maine Workshops.  He is not only an artist but a showman with a contagious passion for painting that I will never forget. Alvero's main lesson was, "Capture the light!"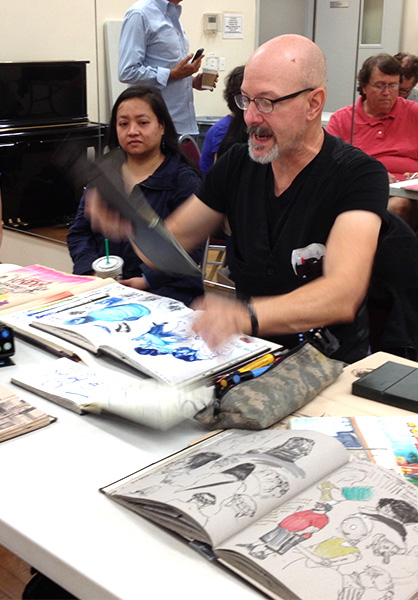 My skills improved since I joined up with NYC Urban Sketchers.  This extremely talented group, organized by my friend Mark Leibowitz,  sponsored a workshop with artist Don Colley, a consummate draftsman who inspired me to start guerilla sketching on the streets and subways of Manhattan.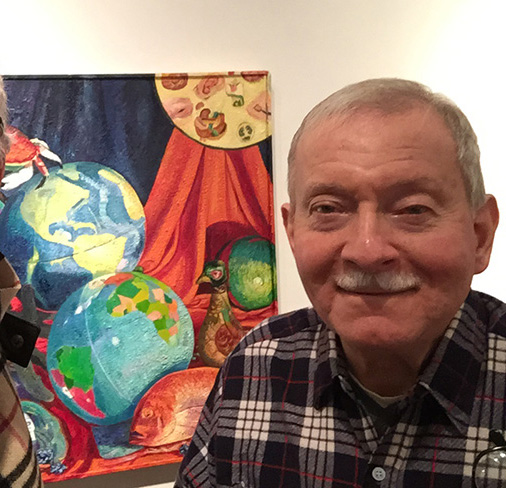 This is my artist friend Larry Faden, a painter who was part of the Greenwich Village art scene of the 1960's.  I took this picture when his work appeared in a group show at Westbeth Gallery.  For years Larry and I met regularly to talk about painting technique and the philosophy of art.  Larry knew everybody in the art world of those days and loved to share his stories.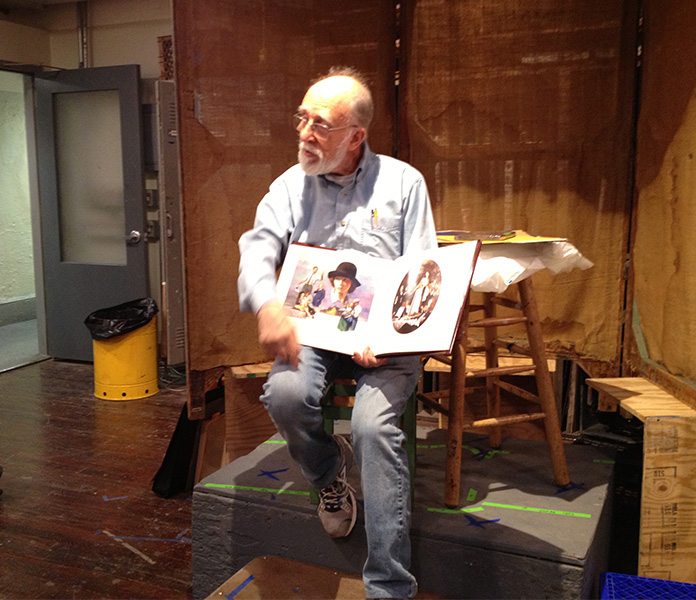 This is Max Ginsburg, a master painter who I studied with at the Art Students League on 57th Street in Manhattan.  Max is a diehard New Yorker whose paintings reflect social realism. I photographed him at the League presenting examples from his long and storied career.  He was the first to teach me oil painting, and I almost got kicked out of his class for bringing hardware store-bought turpentine which stunk up the classroom and made some students sick!  Turns out I didn't read the materials list carefully.  What an embarrassing way to start off as an art student.  Max told me, "Paint what you see!"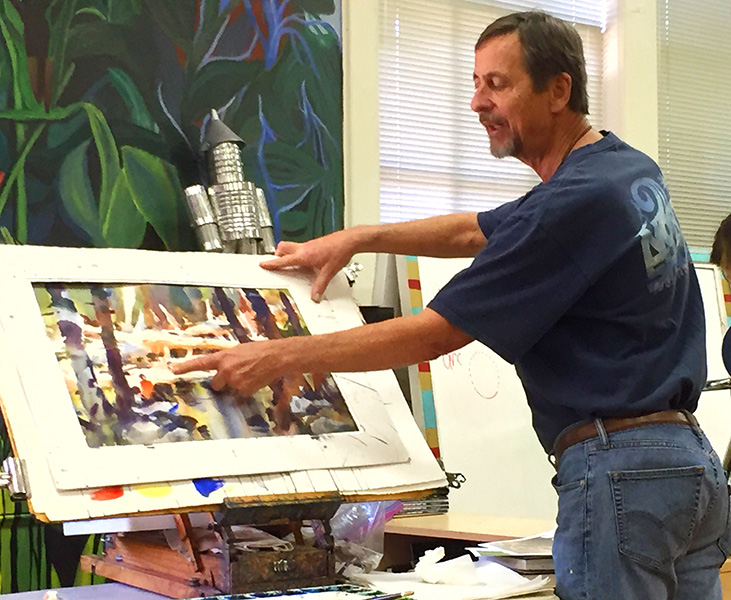 I sought out Don Andrews as a teacher because of the amazing things he does with watercolor paint.  A true Southern gentleman, he helped me learn this very fickle medium.  Always encouraging, he once told me, "That might be mud, but its GOOD mud!"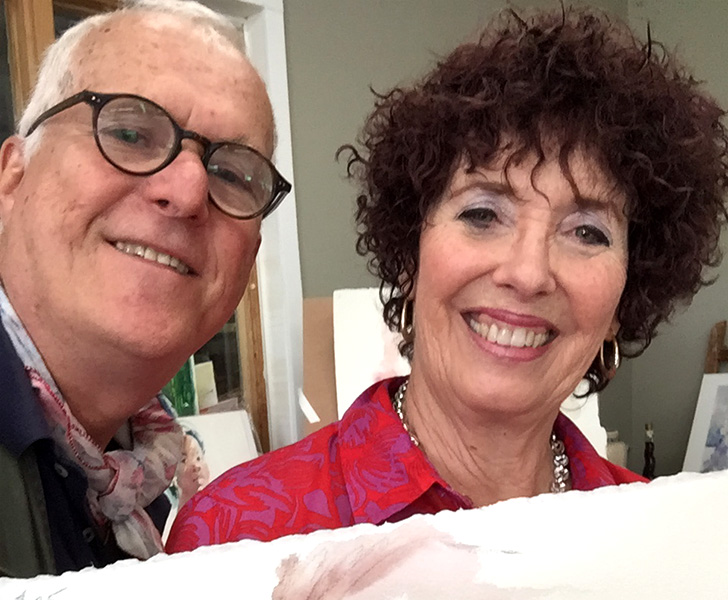 This is Janet Rogers, a wonderful artist and very kind soul.  I took her class sponsored by Acadia Workshop Center on Mount Desert Island in Maine.  Janet's sensitive watercolor paintings match her beautiful smile, and she taught me how to mix flesh tones.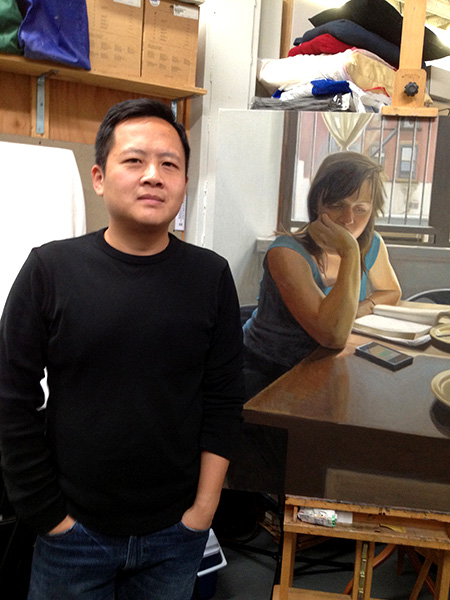 Kenneth Wong is an up-and-coming artist in Brooklyn, who was a teaching assistant at the Art Students League.  An amazingly talented painter, he shared his knowledge of brushes, techniques, and philosophy of art that matched any older artist I learned from.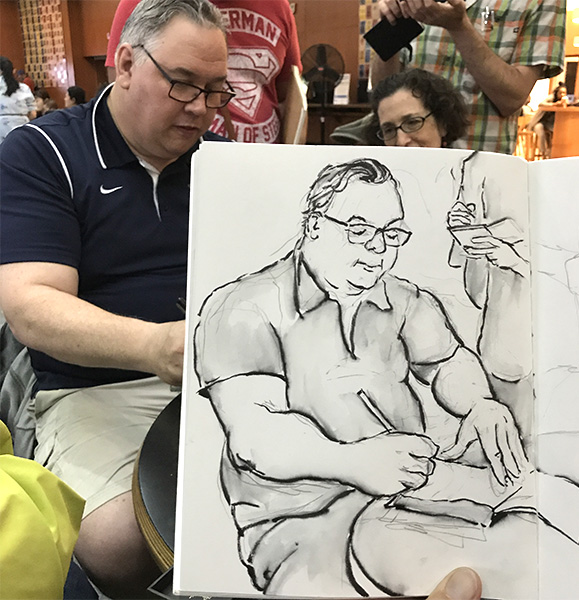 This is my sketch of Tom Kerr, an illustrator and professor of illustration at St. John's University who led a workshop sponsored by NYC Urban Sketchers.  An amazing master of ink, he inspired me with his patience and persistence in developing complex line drawings.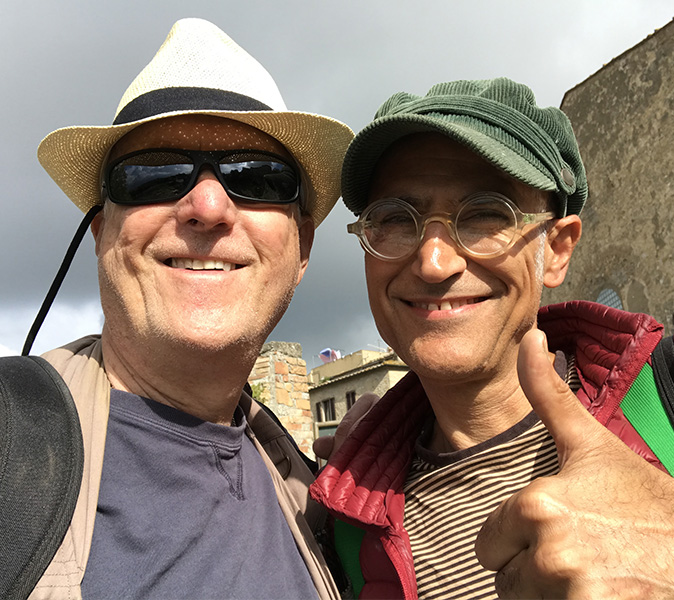 Maj Modir led an Urban Sketchers workshop near his home in Tuscany that totally altered my view of making art.  His inspiring enthusiasm and ability to convey his vision continues to stay with me long after leaving Italy.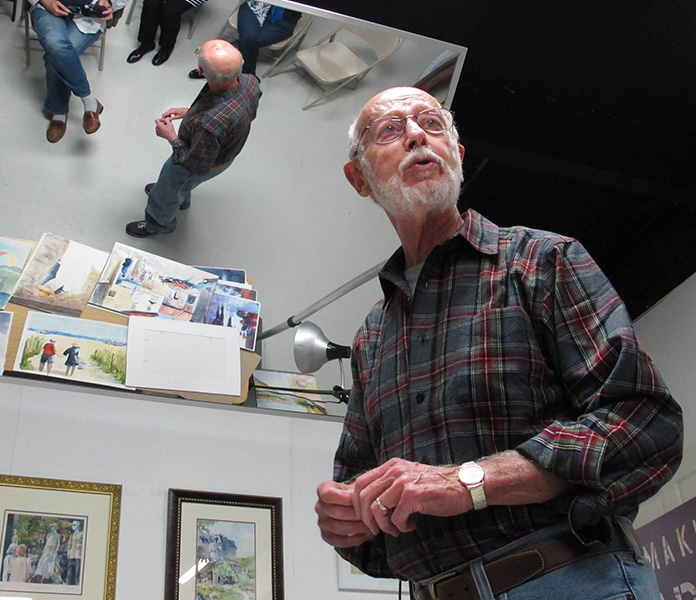 I took several workshops with Mel Stabin, an extraordinary watercolor artist whose style of laying down color and composition inspired me to delve more deeply into this medium.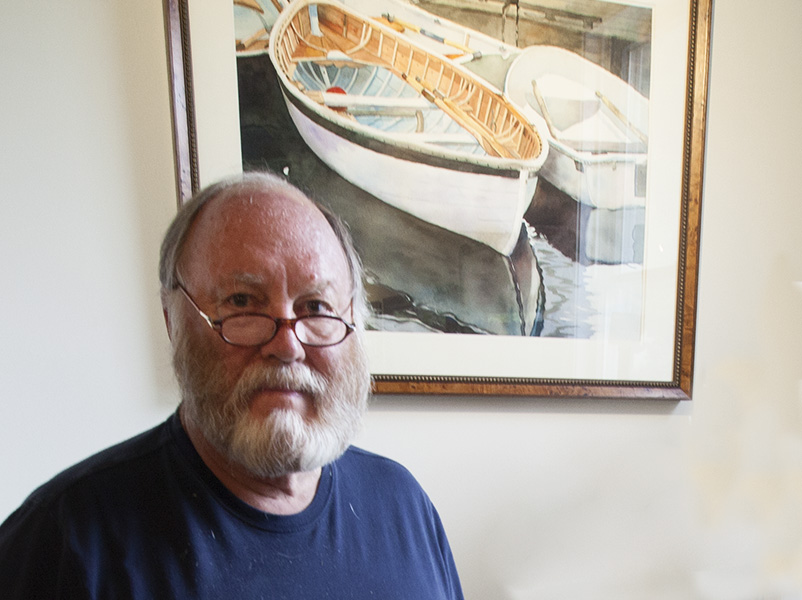 Phillip S. Steele is an amazing artist based in Southwest Harbor, Maine, whose paintings depict maritime life and the sea.  I took my first watercolor lessons from him in his studio.  I was totally confused as I squirted paint willy-nilly onto my new palette, but this was a great way to spend the summer and begin my journey.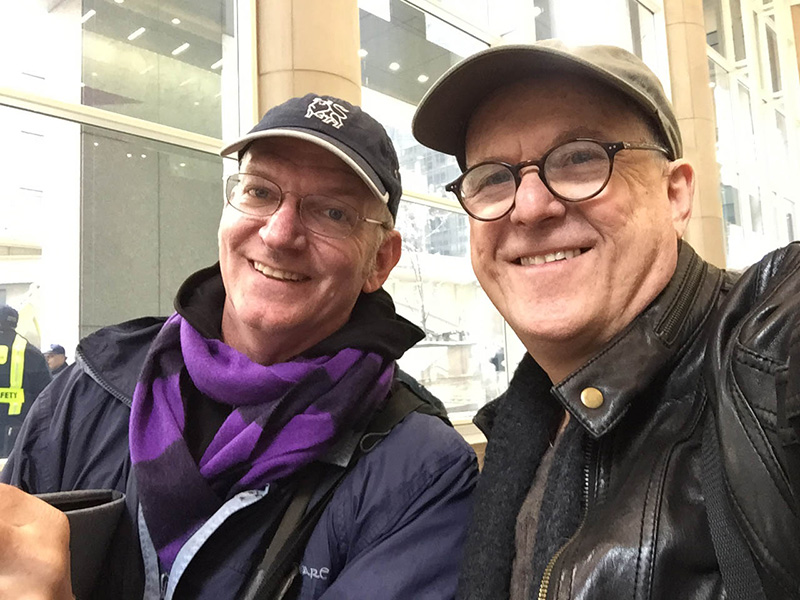 I met Tom Thorspecken when he came to Manhattan to teach a workshop for NYC Urban Sketchers.  I was so impressed with his skills and teaching ability that I traveled to Florida to spend a day with him in Orlando.  A former animator at Disney Studios, he writes an amazing and insightful blog entitled Analog Artist Digital World.  He is author of a great book on Urban Sketching,  and taught me how to lay out complex scenes in my sketches.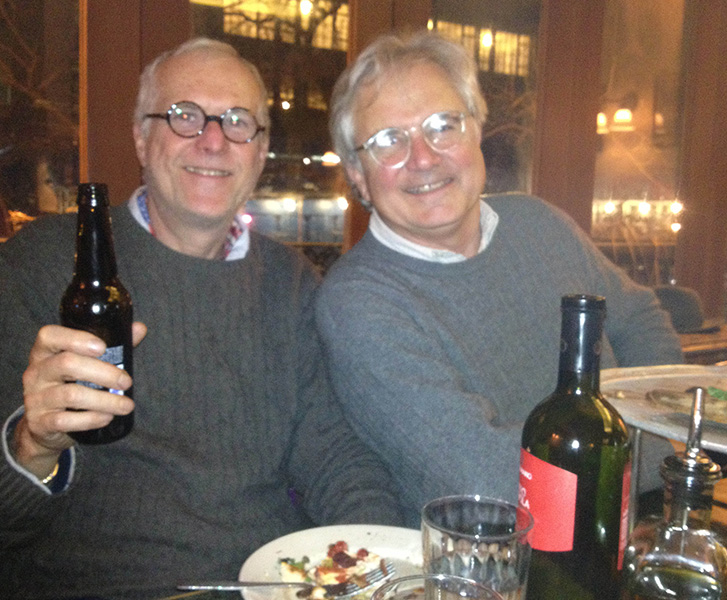 Timothy J. Clark is probably the most inspiring watercolor artist I've had the pleasure to learn with.  His knowledge of history of art, artists, techniques, and materials is vast and encyclopedic.  Tim teaches every winter and spring at the Art Students League, and after a long weekend of painting always takes his class out for pizza and beer. He taught me an important lesson: "You don't paint to become famous, you paint to paint." I'm still trying to deal with that.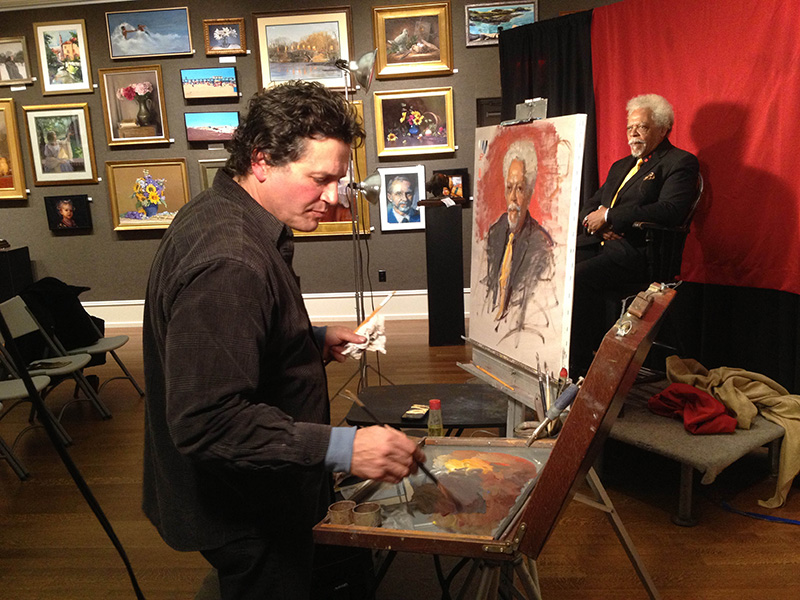 I studied with John Varriano, a meticulous and talented painter who teaches at the Art Students League.  He has a master's knowledge of color theory, and opened my eyes to how to view color and light.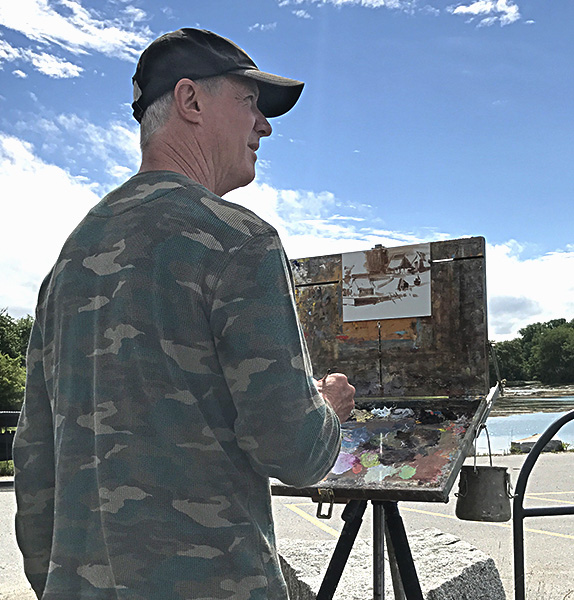 Larry Moore taught me techniques of plein air oil painting.  I took a workshop with him in Rockland, Maine sponsored by Coastal Maine Workshops.  He helped me begin my journey in this medium with theories of brushwork and composition, and awareness of line, form, edges, and color temperature.
The great painter and art teacher Robert Henri said, "The artist is the man who leaves the crowd and goes pioneering. With him there is an idea which is his life."  I've been blessed to have had the opportunity to leave the crowd and learn from these great men and women who have taught me so much.  
* * * * * * * * * * * * * * *
Related posts:
Subway Sketch!
Poetry in the Subway
Rediscovering My Art Supplies in the Arizona Desert 
Watercolor and Urban Sketching in Italy
Capturing the Bolivian Sunlight in Watercolor
Painting in Maine
Recent Watercolors
Traveling with Winslow
Washington Heights Diary
Maine Watercolor
Venice Beach Sketchbook
Sukkot at the Sages
Medical School Memories
Visiting Dr. Chekhov
Sketching on the Left Bank
The Corpus Callosum, Buddha's Enlightenment, and the Neurological Basis for Creativity