[portfolio_slideshow]
One of my artistic influences is a man named Leon Israel. Born in 1887, he came from Pinsk, Russia in 1905 and made a living drawing cartoons for the Jewish Daily Forward. His sketches were published in a book entitled The East Side in Pictures, which captured elderly Jews selling goods from pushcarts and going about their daily life as poor immigrants in New York City. He died in 1955 at the age of 67, and his legacy has been largely forgotten. When I found a copy of his out-of-print book and looked at his images, it was as if his spirit was sitting on my shoulder and whispering in my ear.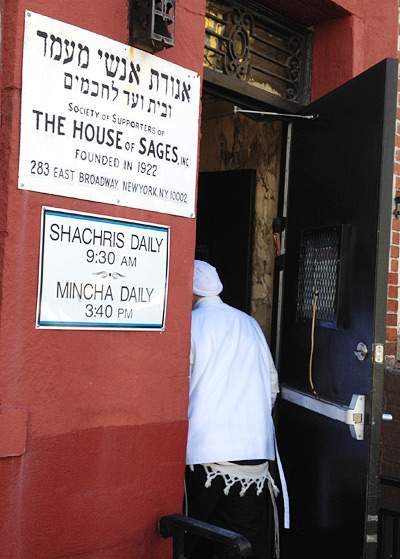 Some years back while wandering the streets of the Lower East Side I found the House of Sages. This congregation was founded in 1922 as a place where aged rabbis can learn and pray while saying Kaddish for deceased members of the community. It is located on East Broadway in an area once called "shtibl row" because it held numerous small synagogues called shtibls. Most of the elders are from Eastern Europe, and many can barely speak English.  Among the hipsters, yuppies, and high priced real estate, the Sages are a holdout of the old Lower East Side.
I went there over the Jewish holiday of Sukkot, a harvest festival when the men say special prayers with four species of plants: the etrog (fruit of the citron tree), lulav (palm frond), hadas (leaves from the myrtle tree), and aravah (leaves from the willow tree). The prayers involve waving the four species in all directions, a ceremony performed at the Temple in the ancient world. On this festive occasion the ultra-religious men wear fur hats called streimels.
The old men sometimes allow me to sketch or photograph inside, and some of these were done on the spot. Others were based on photos or from memory. I tried to capture the spirituality and mysticism of the old men and their ancient rituals. I also tried to recapture the spirit of Leon Israel who once walked these streets of the Lower East Side with his pen and sketch pads, picturing dreamers of the ghetto yearning for salvation of the world and a better life for themselves.
* * * * * * * * * * * * * * * *
To view a sketch by Leon Israel click here.
Check out more art on my Facebook Page.
Related posts:
Sketching on the Lower East Side
Venice Beach Sketchbook
Sketching in the Desert
Maine Watercolor
Visiting Dr. Chekhov
.