Earlier this month the Senate voted to postpone for one year the impending Medicare pay cuts to doctors that would have gone into effect January of 2011.  This is the latest postponement for a measure that will have deep impact on care of the elderly in America. 
In a recent blog post I discussed the imminent Medicare pay cut for physicians and the impact on doctors who practice geriatric medicine.  I noted how devastating such a cut would be for 43 million seniors as well as the doctors who care for them.  I also noted the impact on the field of geriatrics, which is already facing declining interest among graduating medical students and doctors in training.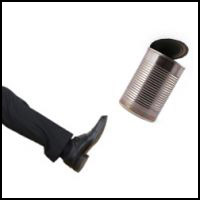 This one year fix is no cure for what ails our system.  In fact, this postponement simply kicks the can down the road, causing larger problems later.  A recent Wall Street Journal article noted that every time this problem gets pushed off it gets bigger, causing steeper cuts later.  These short-term and short-sighted solutions only cause more extensive problems for our system of medical care. 
I recently spoke to a colleague with a substantial geriatric private practice who referred to the looming cuts as "The Sword of Damocles" which when unleashed could effectively end her livelihood.  I have also spoken to medical students who face a six-figure debt load, and are concerned about paying it back.  Entering a specialty that is headed for pay shrinkage is not an effective way to pay back student loans. 
As I explained in my blog post, the payment problems have their origins in the Sustainable Growth Rate formula (SGR) which was implemented in 1997, which called for restriction of physician payments if Medicare costs became too high.  For the last several years Congress has been pushing back these cuts, and holding Medicare pay steady. 
President Obama has called for a permanent solution, but any real fix will require radical realignment of financial priorities in the way that doctors and hospitals get paid.  Our current system is biased toward high priced technology, specialty oriented medicine, and "latest and greatest" pharmaceuticals.  Until our system is realigned toward caring and humanistic medical principles, the same can will be kicked down the road and our system of care for the elderly of our country will continue to erode.
* * * * * * * * * * * * * * *
Related posts: 
Geriatrics: An Endangered Specialty
Retooling for an Aging America:  The Thud that Should Have Been a Bang