[portfolio_slideshow exclude=9476]
In my pursuit of growing old in America, this past February I went to Quartzite, Arizona to photograph and talk to the locals. This dusty town off Interstate I-10 is a destination for thousands of elderly retirees seeking an inexpensive getaway from the cold winter months. To my surprise I discovered that Quartzite is a barometer for economic changes affecting the elderly across the United States.
Quartzite is in western Arizona, just 20 miles east of the Colorado River, two hours west of Phoenix. The town offers a variety of inexpensive camping where you can pitch your RV in a campground with drinking water, sewer connection, and Wi-Fi hotspots, or simply go "boondocking" in the desert without any facilities whatsoever. The town has restaurants, laundry, showers, and post office. I stayed in a sparse motel called the Yacht Club – how it got that name hundreds of miles from the ocean I didn't find out.
The year-round population for Quartzite numbers less than 4,000 people, and the 2000 census named it the oldest town in the US with an average age of 67.3. In January and February thousands of RV'ers descend on the town to enjoy the warm sunshine and attend the swap meets and rock-hound festivals that cover acres of empty lots near the center of town.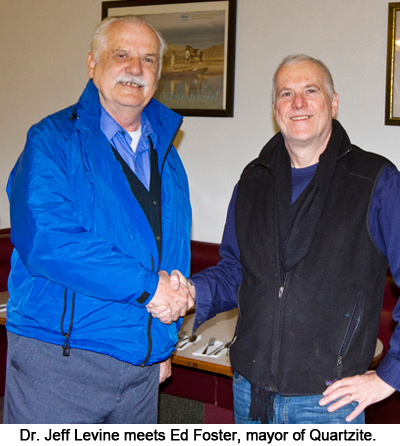 I had the good fortune to meet Ed Foster, mayor of Quartzite. A former corporate engineer, Ed came to town as a snowbirder but moved permanently when he found gas too expensive. He got involved in local politics and has been mayor since 2010. Mr. Foster painted a picture of radical change in the snowbird community that he believes is a consequence of the downturn in our nation's economy.
In 2001 the number of snowbirders peaked at over two million, with winter traffic choking the town for miles in all directions. Since then there's been a dramatic decline, which Mr. Foster ascribes to economic uncertainty.
"People who come to Quartzite are retired with investments in danger," he told me. "These people are supporting their children and grandchildren."
Ed pointed out that it costs $400.00 to fill up a tank in an RV, and you need to refill two to three times when coming from Washington or Oregon. This winter he estimates the number of snowbirders at 300,000 – a fraction of the visitors a decade ago.
Still, the snowbirders I met were a happy bunch, proud to be part of this desert community. They were especially pleased with the sense of friendship and camaraderie. 86 year old David Chismore has been coming to Quartzite for twenty years and told me, "This is the cream of the crop of old people."
One of the more interesting people I met was Paul Winer, who runs Reader's Oasis Bookstore on the edge of town. He had an amazing selection with over 400,000 titles, all used and incredibly organized. Paul is a musician with the stage name of Sweet Pie, who plays boogie-woogie piano. The bookstore is world famous because Paul is a nudist and conducts his day-to-day business with only a hat and slippers, something you couldn't get away with in New York City.
Overall my experience in Quartzite was pretty incredible. I had some great burgers at the Yacht Club bar while watching old folks dance and sing karaoke. When I get to be 86 I might just get an RV and stay there for a few weeks. I just hope the bookstore is still open.
* * * * * * * * * * * * * * *
Related posts:
Myths and Realities of Blue Zones and Aging in America
Aging Across America Goes to Sturgis
The Flag Ladies of Freeport, Maine
Aging Across America Visits a California Shopping Mall
The Twilight of Jewish South Beach, Miami
.