[portfolio_slideshow exclude=7529]
My father was an artillery sergeant in the bloody battle of Okinawa in WWII and I grew up listening to stories that sometimes gave me nightmares. Stashed away in my Jersey City home were his bayonet and pictures from his war album which I still have. As a geriatrician I learned that Okinawa has many old people, and in 2005 I went to Okinawa with a dual goal of photographing aging and visiting the place of my father's memories.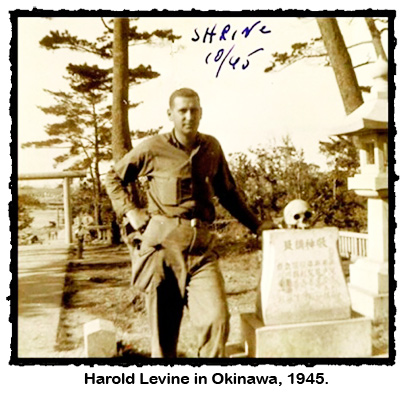 Okinawa is the southernmost island of Japan with a unique culture passed down from the Ryuku Kingdom. Research shows that Okinawan elders often escape diseases such as dementia, atherosclerosis, and cancer, and have lower mortality rates compared to other countries.
We landed in the Okinawan capital of Naha and rented a shaky car with a stick shift and the steering wheel on the wrong side. The first place we stopped was the underground tunnels and caves built by the Japanese army that my father told me about, which were the defensive headquarters when the Americans attacked. They are kept today as a shrine and museum.
We went to the New Year celebration at Shuri Castle – the former center of the Ryukan empire. My father told me about this castle and how the bombardment left it in complete ruin. I met a US Marine who told me I would find lots of elderly people at Naritasan Temple on the other side of the island, and after watching the ceremonies at Shuri Castle we headed to this location.
It turned out that I had seen Naritasan Temple before – in my father's old war album. I remember a yellowed picture of my Dad standing by a human skull propped on a monument. I knew this picture so well that I recognized the stepped road leading up to the shrine. The road was marked by several torii, which are archways separating the sacred from the profane. Sixty years later that same road was crowded with Okinawans coming to meditate, celebrate and pray. I asked a local to take a picture of me and my wife on that road.
There's a lot of speculation as to the source of longevity in Okinawa and reasons may include lifestyle, diet, and genetics, but I have a different theory. In Okinawa it is an honor to be old. The tombs that dot the island illustrate this, as they are designed as meeting places where families come to honor their ancestors. In a culture that reveres its ancestors, my theory is that one's life is geared toward attaining old age and reaping the honors.
Beside the tales that evoked horror, my father also told me a magical story of swimming at night in the China Sea. His voice always took on an air of wonder when he told this one.  The day before we left Okinawa I walked to a beach as the sun was going down. I slid into the water from a slippery rock and looked at the sky as I paddled around.  When I got back to the hotel I called to tell him and the connection to New York was remarkably clear. "You followed me," he said.  "Yes Dad, I followed you," I replied.  After so many years, my dreams of Okinawa were no longer nightmares.
* * * * * * * * * * * * * * *
Related posts:
Photographing Los Ancianos of Bolivia
An Unexpected Religious Festival in India
A Taste of Ancient Peruvian Medicine
.