Dr. Levine is a nationally recognized expert in wound care and pressure ulceration.  He has published and spoken widely on this topic. He is a Board Member of the National Pressure Ulcer Advisory Panel (NPUAP). Dr. Levine's Pocket Guide to Pressure Ulcers co-authored by Elizabeth Ayello RN and published by the New Jersey Hospital Association is in its 4th printing and has sold over 30,000 copies.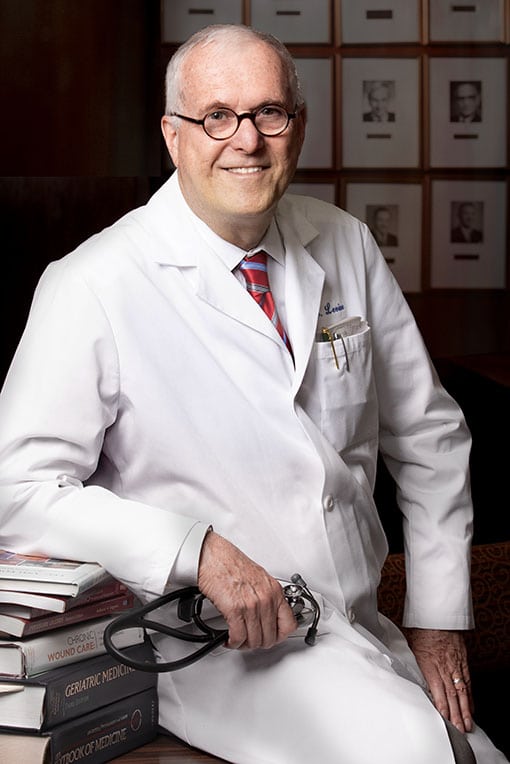 In this post I will discuss two recent articles that together make the case that pressure injuries might be a manifestation of a human biological warranty. The first is Unavoidable Pressure Injury: State of the Science and Consensus Outcomes, published in the Journal...
read more
Making an Impact On Healthcare for the Elderly Across the Globe
Dr. Levine is very active in assisting a diverse group of organizations and clients to improve medical care, decrease adverse outcomes such as pressure ulcers, and understand the complex interaction between illness and the health care system. He has published numerous articles related to the healthcare of the elderly. He was a contributing editor for a book on the legal and regulatory aspects of nursing homes.
Nationally Recognized Expert in Wound Care and Pressure Ulceration
Board Member of the National Pressure Ulcer Advisory Panel (NPUAP), an organization that serves as the authoritative voice for improved patient outcomes in pressure ulcer prevention and treatment through public policy, education, and research.
Authored the Pressure Ulcer chapter for the Geriatrics Review Syllabus (GRS9) for the American Geriatrics Society.
Contributing author for the American Medical Directors Association's Clinical Practice Guideline for Pressure Ulcers.
Participant in the New York State Gold STAMP Advisory Committee to assist in developing and implementing cross-setting collaboratives with hospitals, nursing homes, and home care agencies to reduce the incidence and prevalence of pressure ulcers.
Assist the Centers for Medicare and Medicaid Services (CMS) in the roll-out of revised MDS 3.0.
Assisted with developing a state-wide program to improve wound care in nursing homes.
Leading expert to determine whether there existed system-wide neglect and abuse of aged persons in a corporate nursing home chain.
Dr. Levine was asked by a government agency to analyze medical records from a group of nursing home residents to determine whether the facility complied with a plan of correction after being investigated and cited for deficiencies.

Determine whether the civil rights of elderly institutional persons had been violated.

Dr. Levine has participated in nursing home inspections to assess the quality of medical care delivered to nursing home residents.
Assist in determining whether individual healthcare providers had complied with professional standards in caring for geriatric patients.
Dr. Levine was asked by a state agency to assist in investigation of healthcare providers to determine whether medical standards of care had been violated in the care of elderly patients.