[portfolio_slideshow exclude="8783″]
As it became clear that Obama was going to win the Presidential race, I grabbed my camera and headed to Times Square to photograph the celebrating crowds. To my delighted surprise I ran into an old friend – an aging left wing activist and hippie named Aron Kay who was infamously known as Pie Man.
Aron is a holdout from the radicals of the 1960's. As everyone from that era joined the establishment, died or just faded away, he continued going strong preaching social justice. I enjoy picking his brain and hearing his stories because he knew everyone on the scene back then. He still talks the talk and walks the walk – even if it's with a cane.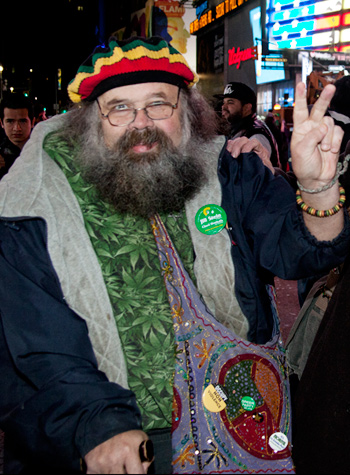 Back in the day Aron hung with Abbie Hoffman and Jerry Rubin, and was an uncredited co-author of Abbie's Steal This Book. He was friends with founders of High Times Magazine and the Village Voice, and hobnobbed with bands like the Jefferson Starship. He campaigned for Eldridge Cleaver, the Black Panther who ran for President in 1968.
The son of Holocaust survivors, he can converse in Yiddish and admits to being a rebel most of his life. His philosophy was influenced by the counter-culture of the Viet Nam era and sound of the Beatles.
Aron's real claim to fame was becoming the notorious Pie Man, who threw pies at politicians like G. Gordon Liddy, Senator Pat Moynihan, and former mayor of New York City Abe Beame. He glows with pride when he talks about his FBI file.
Since the 1960's Aron's life hit some bumps. As the East Village gentrified he spent some time homeless and moved to Brooklyn. But in Times Square when President Obama took the race he was there cheering. I photographed the jubilant young crowd and wondered if anyone knew that the seeds of society's change were planted by people like Aron.
In the early morning hours of November 7, 2012 President Obama said the following words as he acknowledged his victory:
"What makes America exceptional are the bonds that hold together the most diverse nation on earth. The belief that our destiny is shared; that this country only works when we accept certain obligations to one another and to future generations. The freedom which so many Americans have fought for and died for come with responsibilities as well as rights. And among those are love and charity and duty and patriotism. That's what makes America great."
Aron wandered with some difficulty among the crowd as people of all colors, religions, and sexual persuasions cheered and waved. Nobody recognized Aron, but I knew who he was and felt proud to be his friend.
* * * * * * * * * * * * * * *
Related posts:
The Woodstock Generation Comes of Age
Aging Rock 'n Rollers Take Manhattan's West Side
Folk Legend Pete Seeger Joins Occupy Wall Street March
Learn more about Pie Man by clicking here.
.