[portfolio_slideshow exclude="9039″]
It's been over a year since I traveled across northern India to photograph faces of aging, and I'm still sorting through the images that I brought back. In the holy city of Benares, home of the great god Shiva, I heard of an old age home founded by Mother Teresa. As a geriatrician with a camera the thought of visiting and photographing inside this place thrilled me, so I set out to find it. This is the story of my encounter with the Missionaries of Charity in Benares, India.
The compound that housed the Missionaries of Charity was near Kedar Ghat on the south side of the city. The ghats are massive steps leading down to the Ganges River where people bathe, pray, do laundry, and give offerings. This particular ghat was away from the hustle and bustle, with water buffalo lounging lazily on the banks and an open sewer that had an unforgettable odor.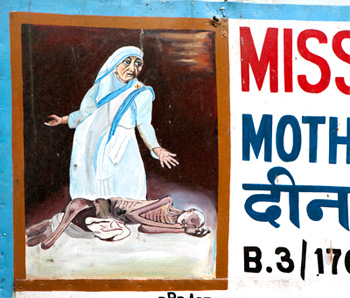 I wandered through a maze of ancient streets until I came to a small road with beggars and hungry looking dogs wandering about. The Missionary building was marked with an unmistakable sign, and at the door I met Govinda – a destitute man who walked half way across India to come to this place to live. He was a caretaker and warned me how strict the nuns were about pictures. I explained my project to photograph faces of aging in India and asked to meet the Sisters to make my case, but he just told me to come back the next day.  I was disappointed but not discouraged.
The next day Govinda gave me a smiling, toothless greeting while telling me I couldn't go in, but after a long friendly chat he allowed me meet one of the Sisters in charge. I waited in a foyer with a large wooden crucifix and listened as prayers echoed through the halls. After a half hour Sister Celia appeared. Through my guide and translator I explained that I was a physician specializing in aging and asked to photograph inside the compound and meet the residents, but she was neither impressed nor persuaded. With a stern face she told me to come back the next day.
The next day I waited in the foyer for another half hour, listening to more prayers that came from places I couldn't see. I learned that Sister Celia was unavailable, but another nun with equally stern demeanor appeared. She had dark skin and told me she was from West Africa, but clearly had no time to chit-chat. The Sister told me if I brought food for the residents she would give me a tour, but reaffirmed the policy of "no pictures." I ran to the market and returned with an armload of fresh fruit and she let me inside.
The place was spanking clean, with dormitories that housed dozens of very infirm men and women. After many years working in nursing homes I felt quite at ease. Along with the elderly were crippled and deformed adults of varied ages. Some had bandaged limbs while others were developmentally disabled. I walked among the cots and handed out bananas and oranges as small boney fingers eagerly grabbed my gifts and clutched them tightly while eating.
I was led into a dark room where several thin, scraggly men were dozing. "This is the tuberculosis ward," she told me. I held my breath as I headed for the door, trying not to offend by showing my haste.
As I was saying goodbye in a stone paved atrium the Sister told me unexpectedly, "You can now take one picture." I nervously fidgeted with my camera and waited a few seconds for a decent composition and took the shot that appears as number 20 in the slideshow above. You can see that the passing man has skin disease on his arms and feet. I tried to encourage the Sister to smile or look at the camera without success, but I realized that this was her gift to me.
India is an amazing place and a visual paradise filled with colors, sights, and traditions that are so different from what we see in America.  The poverty, traffic, and dust can be overwhelming, but the spiritual atmosphere is intense.  Despite my persistence I had only limited success in Mother Teresa's compound, but my trip still yielded faces of India that capture the full maturity of old age and reveal light radiating from people who have grown old gracefully.
* * * * * * * * * * * * * * * *
Related posts:
An Unexpected Religious Festival in India
Blessing of the Dawn on the Ganges River
The Corpus Callosum, Buddha's Enlightenment, and the Neurologic Basis for Creativity
Check out my other international portfolios:
Victory Day in Moscow:  Part II
Photographing Aging in Okinawa
The Elders of Taquile Island in Peru
Photographing Los Ancianos of Bolivia
.