[portfolio_slideshow exclude="4122″]
An Essay by Dr. Jerry Winakur
[This essay written by author and physician Jerry Winakur is reprinted with permission from Caring for the Ages, a publication of the American Medical Directors Association.  Dr. Winakur is Clinical Professor of Medicine at University of Texas Health Science Center at San Antonio where my exhibit, Aging Across America, was shown this past winter in the Briscoe Library.]
For the last decade I have volunteered as an Associate Faculty member at the Center for Medical Humanities and Ethics, part of the University of Texas Health Science Center at San Antonio.  It is our job to meet with groups of students in their first and fourth year of medical school in order to provide them some instruction in medical ethics and professionalism.  As a geriatrician, I have a covert agenda:  to spark an interest in geriatric medicine among the students with whom I spend time.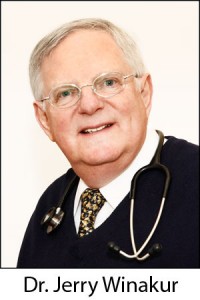 Sadly, however, every year it is the same.  I stand in front of the first year class—240 young and idealistic men and women—and ask this question:  Who in the audience this morning has some interest in a career in geriatric medicine, to help care for our nation's elderly?  Perhaps 7 or 8 students might raise a hand.  By the fourth year it is 4 or 5.  Maybe.
I am always looking for other ways to kindle their enthusiasm:  I present them with fascinating case histories direct from my own experience in which I was able to make a real difference in the life of an elderly patient.  I bring patients to some of the classes so the students can get an up close and personal look at the kind of wise and generous and grateful folks for whom I care, along with some perspective on what it means to look after someone for twenty or thirty years.
I invite them to small group lunches or dinners where we discuss ethical dilemmas together in order to give them a feel for the real life drama someone like me confronts in hospitals, ICUs, and nursing homes year after year—including the difficulties of negotiating the doctor-patient-family dynamic.
I teach an elective for second and fourth year students called, "Medicine Through Literature," and each month we read novels or short stories or essays that highlight in a moving way the progression of the life course and the challenges at life's end.  And they are moved by these writings, their eyes are opened; they mature in their responses during the course of a year.
But still, at match time, too many of them follow the ROAD:  Radiology, Ophthalmology, Anesthesiology, and Dermatology.  No more than a handful enters internal medicine or general practice residencies with the intention of going on to geriatrics. 
Most of us reading this column assume we know why this is.  And yet, despite the fact that geriatrics is the lowest paying medical specialty at a time when medical student debt has soared, I believe that there is something even more fundamental at work, something even more sinister than the lack of monetary reward for our efforts. 
It is sinister because its roots lay in the manner in which our society views the most elderly among us.  And this viewpoint—these images—affect us from the time we are first aware until the day that we each become old ourselves.  And, for some of us, not until the day that we die.  Fear of aging and death, loathing and self-loathing are too often the visual messages that we—professionals, medical students, and the public at large—receive from those whose job it is to shape opinions, to market, to opine from the public square.
Think about it:  when is the last time you saw one of our oldest old on the cover of a slick periodical?  You might see the grainy photos of a bedsore snapped by a disgruntled family member of a nursing home patient on the front page of your local newspaper that is running an expose on "abuse and neglect."  But even the organizations that support our aging citizens always place a photo of  a "young old"—or someone made over by plastic surgery and botox—on the covers of their monthly magazines.  How many television commercials for incontinence products show images of the elderly as we see them in our offices?
Sadly, even AMDA no longer displays the faces of the oldest old on JAMDA covers.  How I miss these.
We reap what we sow.  We are a vain, youth-worshipping society.  We fear aging.  We deny death.  Seventy-five per cent of us have never had a conversation with our loved ones as to how we want our end of life to be.
This is where Dr. Jeffrey Levine comes in.  A geriatrician, a wound care specialist, and a superlative photographer, Dr. Levine captures "aging in full" in his latest photographic exhibition, "Aging Across America."
I met Dr. Levine at AMDA's annual meeting in 2009.  In my keynote speech I used one of his striking images of a lovely elderly couple that had appeared on the cover of JAMDA.  Jeff came up to me afterward to thank me for showing this photo—of his parents.
So I have been a fan of Jeff and his work since that time, have heard him lecture in New York during his first highly acclaimed "Aging Through A Physician's Lens" exhibition, seen his work displayed at AMDA conventions, followed his blog.
As all of us have done with our lives, Jeff has spent time with real people struggling with the realities of aging, and the vicissitudes of life, and has listened to their stories.  Jeff Levine's eye has captured some of these people.  He understands what is authentic and noble about the aging process, what grit and determination and wisdom lies just beneath the surface of the weathered skin, the arthritic joints, the balding heads, the drooping breasts, the veined legs.  The ones most of us will pass on the street unnoticed, or with averted eyes, the ones who will never appear on the cover of a slick magazine.
Dr. Levine's "Aging Across America" exhibition has just opened in the Briscoe Library of the University of Texas Health Science Center at San Antonio.  Each photograph is accompanied by a moving poetic description—an ekphrasis—written by my wife and co-instructor at the Center for Medical Humanities and Ethics, Lee Robinson.
I hope you will get to see and study these exquisitely rendered photographs when they come to a venue near you.  But look past the light, the form, the color—the artistic components which must be there, which first draw us to any exceptional work of art.  Spend your time looking at the people:  the smiling senior at the Western Way RV resort, the white-haired cowboy charging hard on his steed, the Pearl Harbor survivor standing tall in his walker, the grandmothers with faces set in defense of peace, the determined jowls and taught leg muscles of seniors at the start of a marathon.     
If you look honestly enough, you will see in these photographs the story of an aging America that is missing from our national consciousness.  You may even see yourself—or someone you love.
And bring along a medical student.  Your enthusiasm and these photos just may influence him or her to take the road less travelled.
 * * * * * * * * * * * * * * *
Note from Jeff Levine:  I would like to thank Jerry and the staff at UT for supporting my exhibit and inviting me to San Antonio.  Special thanks to Penelope Borchers, librarian at the UT Briscoe Library, for taking some of the pictures in the slideshow above, to Lee Robinson at the UT Center for Ethics and Humanities for providing poetry to accompany each photo in the exhibit, to Stephanie McClain in the Center for Ethics and Humanities for coordinating development and installation of the exhibit, and to Ruth Bergrren, director of the Center, for inviting me to present my exhibit and provide Medical Grand Rounds at the UT Health Science Center campus.  Another thanks goes to Keith Haglund, managing editor for Caring for the Ages, who provided permission to reprint this essay. 
Download the original PDF article by Dr. Winakur from Caring for the Ages.
For Jerry Winakur's book click on this link: Memory Lessons: A Doctor's Story,
For Jerry Winakur's website click here.
For Lee Robinson's website click here.
To inquire how to bring this exhibit to your institution contact Dr. Levine.
Related posts: 
Aging Across America Goes to San Antonio
Retooling for an Aging America:  The Thud that Should Have Been a Bang