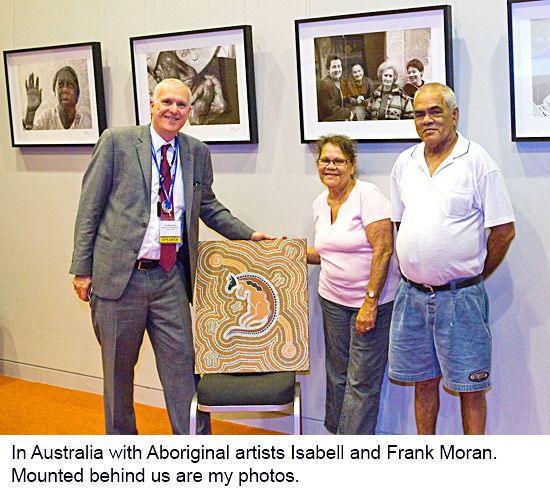 This past fall I exhibited my photographs of aging at the International Arts and Health Conference in Port Macquarie, Australia.  There I had an opportunity to experience Aboriginal art, and was captivated by its boldness and spirituality.  Native Australians have a complex cultural tradition with music, song, dance and visual imagery.  They are deeply spiritual, and believe that animal spirits inhabit the forest and nature.  Art is a central component of traditional Aboriginal culture, ensuring continuity with the past and communicating with the spirit world.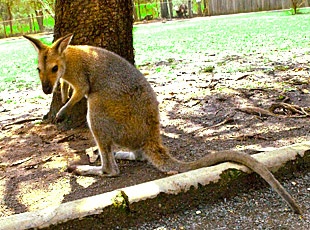 While in Port Macquarie, I met Aboriginal artists Isabell and Frank Moran from the Donghutti Tribe in New South Wales.  They had an amazing array of paintings with a primitive, abstract, and intense aura.  Subjects included lizards, snakes, butterflies, kangaroos and other animals of the Australian bush.  The style was called "dot painting," which used acrylic on canvas using earth tones of ochre and yellow, and have their origin in sand painting using stones, seeds, and feathers – artistic techniques used by ancestral clans as they moved from place to place. 
In the photo above, Isabell is showing me a painting of a swamp wallabee – a small marsupial which inhabits undergrowth in forests and woodlands.  I learned from Isabell that this was a wood-spirit known for kindness.  In Aboriginal religion, animals are inhabited by spirits of people who have died.  Isabell explained the symbolism in the painting, including kangaroo tracks and watering holes.  The depictions of animals often show an "x-ray view," with bones, eggs, and digestive organs – a style thought to be 4000 years old.  I photographed the wallabee at right in a preserve near the outskirts of Port Macquerie. 
A central concept binding Aboriginal culture is that of reciprocity and mutual obligation, which mandates that resources be shared, and those who receive have the obligation to share with others.  I bought this painting and Isabell said to me "Take good care of our spirit, if you do that it will take care of you."  


 * * * * * * * * * * * * * * *
For a related post go to:   Nursing Home Care in Australia
For more information on Aboriginal art and culture click here. 
For more information on the artists in this post click here. 
To visit Dr. Jeff Levine's on-line portfolio click here.