[portfolio_slideshow]
The Gerontologist (TG) has published my photographs on the cover since 1995. The image on the recent June/July issue features an aging biker named Zip taken in South Dakota at the Sturgis motorcycle rally. I went there in August of 2011 in my continued quest to document the changing image of aging in America and in different cultures throughout the world.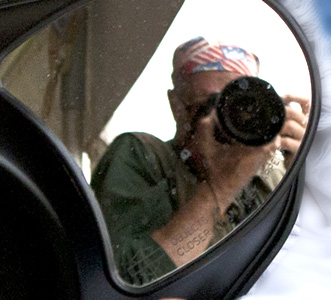 I started this project two decades ago when I first picked up a camera. My initial intention was to make a visual encyclopedia of the diseases of old age, but the project expanded outside the healthcare setting, looking beyond illness to healthy aging. I've since photographed aging across the USA and beyond: in Asia, Russia, and South America. In choosing my cover submissions I look for human diversity and inner strength – a quality I have observed as necessary for reaching a productive and healthy old age. I've logged in over 50,000 miles thus far developing this portfolio.
Throughout the years, the editorial staff of TG has expressed their gracious appreciation for my project by publishing my images on over forty covers. TG is published by Oxford University Press, and is the flagship journal of the Gerontological Society of America. Each issue presents a broad range of multidisciplinary research on all aspects of aging.
Aging has never been a popular topic, and it's a good thing I have a day job to support the project. Check out my latest cover, as well as other shots I took along the way as I traveled across South Dakota to Sturgis – the event that turns this quiet town in the Black Hills into a thundering campground hosting over a half million motorcycle enthusiasts.
 * * * * * * * * * * * * * * * *
 Related posts:
Aging Across America Goes to Sturgis
The Woodstock Generation Comes of Age
Looking at India on the Cover of The Gerontologist
Victory Day in Moscow: Part II
Photographing Los Ancianos of Bolivia
Geriatrics, Art, and Ancient Treasure on Lake Titicaca
.