[portfolio_slideshow]
This past weekend I bicycled across the Queensboro Bridge to photograph 5 POINTZ, the dilapidated factory building covered with graffiti. I had just learned that a federal judge denied a request for an injunction to block demolition of this building to make way for a glass walled tower of condos, and the developers planned to raze the structure. I turned on the news tonight to see that the building's graffiti covered walls are being coated in white paint in preparation for a knock-down, with artists crying while watching the art disappear. Turned out that I photographed this incredible site in its full glory just two days before it was defaced.
The building stands in a formerly industrial area in Long Island City, in the shadow of the Citibank tower and not far from the Court Street stop on the Number 7 Subway line. On Sunday a substantial crowd was circling the building viewing the art and taking pictures. People young and old, and families with children admired the work and posed in front of it for pictures to email to friends or post on Instagram. Under a makeshift tent a group of artists was assembling a petition to stop the demolition and sell art to support the cause. There was a mood of sadness that this spectacular 200,000 square foot canvas of street art was fated for oblivion which began today.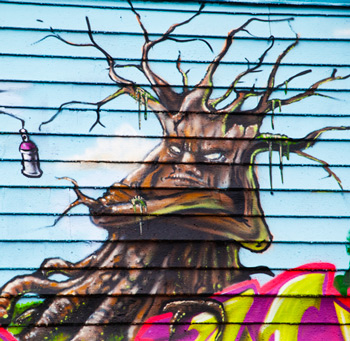 I spoke to Auks, one of the graffiti artists whose work can be seen on the inset at right and on his website. Auks' work typifies the gritty style once on view at the derelict building, and shows us the dark underbelly of street culture. He told me the history of 5 POINTZ and how it began 20 years ago when the dead end street was crawling with drug addicts and vagrants, and graffiti began to spring up on this empty shell of a factory. In time it became a showcase for graffiti artists from across America and around the world. He pointed at different parts of the building and named the countries from which the graffiti artists had come.
Walking around the complex and looking at the art, much of which was dark and haunting, I felt transported back to the New York City I knew when I first moved here in 1984 when Koch was mayor and the streets were much meaner.  Crack and AIDS were front page news and every subway car was covered with similar spray painted graffiti.  Glass walled towers were something you saw in pictures of cities out west and maybe in Asia.  
It is sad to see another piece of New York City's cultural heritage disappear, but the legacy of 5 POINTZ is a demonstration of the power of art and how it can move people. The many people who turned out to express their sadness, concern, and admiration for this colorful edifice shows that you don't need a fancy museum with a $25 admission charge to enjoy art. Unfortunately this huge canvas of City life has been destroyed forever in an act of desecration that is truly saddening.
* * * * * * * * * * * * * * *
See more 5 POINTZ pics on my Facebook Page.
Related posts:
Signs of Old New York: Part One
The Meat Packing District in Black & White
Manhattan Loses an Artistic Landmark
Art, Geriatrics, & Venice Beach
Revisiting St. Vincents Hospital
.