I was recently invited to speak at the International Arts and Health Conference in Port Macquarie, Australia on the topic of Geriatrics, Humanistic Medicine, and Art.   Organized by Margret Meagher, Executive Director of Arts and Health Australia, the goal of the meeting was to promote art in enhancing health and healing.  Port Macquarie was a spectacular location, surrounded by white sand beaches and sweeping views of rugged rocks and coastline.
I had the opportunity to share the podium with Susan Perlstein, founder of the National Center for Creative Ageing in Washington, DC.  Susan Perlstein had worked with the renowned geriatric psychiatrist Dr. Gene Cohen, and co-authored the landmark paper entitled: The impact of professionally conducted cultural programs on the physical health, mental health, and social functioning of older adults.  This paper was based on the concept that human potential does not diminish with age, and that tapping into this potential can improve health maintenance and disease prevention.  The authors demonstrated that engagement in the arts can improve health and function, decreasing the use of medications and syndromes associated with aging such as loneliness and depression.  As a geriatrician, I knew of Dr. Cohen but never fully appreciated his contribution to the evolving concepts and perceptions of aging until I went back and read his publications.
Dr. Cohen was an extremely interesting and brilliant contributor to the field of aging.  He became the first chief of the Center on Aging at the National Institute of Mental Health in 1975, and then became the first director of George Washington University's Center on Aging, Health & Humanities.  In his work at George Washington University, he partnered with The National Center for Creative Aging, an organization dedicated to building relationships between growing old and creative arts, engaging seniors from all cultures in the healing process of self-expression.  His life's work was dedicated to changing the image of aging from a period of inactivity and isolation to a period of growth and creativity.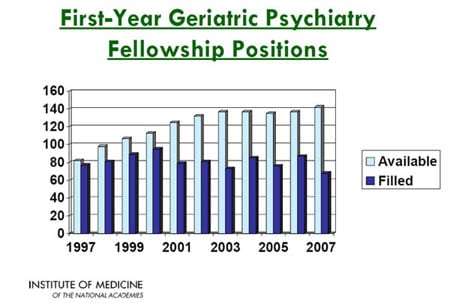 Gene Cohen MD PhD passed away on November 7, 2009.   I wonder what Dr. Cohen thought of the current state of geropsychiatry in America.  According to a recent report from the Institute of Medicine, there are only 1,600 geriatric psychiatrists for approx- imately 35 million elderly Americans.  This report details the dim view of the future of care for the elderly, spotlighting the lack of caregivers entering this field.  This graph, reproduced from the IOM report, illustrates the dwindling interest in this field.
At the same time that the field of geropsychiatry is dwindling, the growth of psychotropic medication for the elderly has exploded.  Potentially inappropriate psychotropic medications come from the pharmacologic categories which include anxiolytics, antidepressants, and antipsychotics.  Use of new drugs, known as "atypical antipsychotics," which include Abilify, Seroquel, and Zyprexa have proliferated, rising in sales to $14.36 billion in 2008 from $8.4 billion in 2003, according to data provider IMS Health.  Evidence of adverse drug events stemming from antipsychotic medications including hospitalization and death have been demonstrated.  As a physician who practices geriatric medicine, I have personally seen adverse drug events from psychotropics which include falls, dehydration, delirium, and movement disorders.
The field of geriatric psychiatry has the potential of offering collaborative, creative solutions to caring for the growing aged population in America.  However as the trend shows, this opportunity is being missed, which is another failure of the our healthcare system.  Without a workforce of physicians properly trained in geriatric psychiatry, powerful and dangerous medications have become overly simplistic replacements for proper psychiatric care in old age.  Will Dr. Cohen's legacy of redefining old age as a time of growth and creativity be swept aside by the promotion of pharmaceuticals as a cure for the ills of growing old?  I hope that the National Center for Creative Ageing continues to nourish the legacy of this pioneer.
 * * * * * * * * * * * * * * * * *